At Premium USB, one of the most frequently asked questions we get is what is the difference between USB, Micro USB, and Lightning. It can be easy to be confused by all these different ports. On the surface, they look similar and behave in almost identical ways. But it would be a big mistake to think that they're interchangeable!
Read more: What's The Difference Between USB, Micro USB, and Lightning?
One of the most frequently asked questions we get at Premium USB is why do the prices of USBs change so often? Anyone who's bought their share of flash drives over the year will have noticed that their prices seem to fluctuate often. It can be frustrating, but rest assured that there is a very good reason for that. And also know this: It's not our fault!
Read more: Why Do The Prices of USB Chips Change So Much?
The key to effective marketing is getting the right materials in front of the right people. And for a long time, the "right materials" meant the usual suspects: Business cards, direct mail, emails… While these are all valid and useful marketing tools in their own right, they're also the tools that all your competitors are using. If you want to stand out, market yourself with something that's a little out of left field: Spread the word about your business with custom USBs!
Read more: 5 Reasons Why Custom USBs Are Great For Marketing
When people think of industries that benefit most heavily from USB technology, visions of Silicon Valley are more likely to be dancing through their heads than their local courthouse. But here's an interesting tidbit we've discovered over the years at Premium USB: USB technology has a big impact on our legal system!
Read more: How Our USB Cases Help Close Cases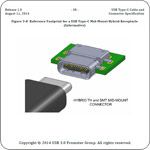 The battle for mobile connector of the future is heating up, and it's being driven by mobile devices.
Back in 2012, Apple retired their proprietary 30-pin connector and phased in a smaller, slimmer connector called Lightning. The connector made its debut with the iPhone 5 and is now standard on all Apple devices including iPhones, iPads, and iPods.
Beyond its shape, the Lightning connector is unique for being reversible – which means there is no "wrong way" to connect a charging cable. This gave Apple users an advantage over MicroUSB, the dominant connector used on Android-powered devices, which uses a directional connector.
Read more: USB Type-C Connector Poised to Rival Apple's Lightning