When people think of industries that benefit most heavily from USB technology, visions of Silicon Valley are more likely to be dancing through their heads than their local courthouse. But here's an interesting tidbit we've discovered over the years at Premium USB: USB technology has a big impact on our legal system!
Read more: How Our USB Cases Help Close Cases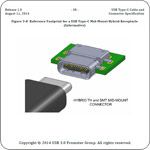 The battle for mobile connector of the future is heating up, and it's being driven by mobile devices.
Back in 2012, Apple retired their proprietary 30-pin connector and phased in a smaller, slimmer connector called Lightning. The connector made its debut with the iPhone 5 and is now standard on all Apple devices including iPhones, iPads, and iPods.
Beyond its shape, the Lightning connector is unique for being reversible – which means there is no "wrong way" to connect a charging cable. This gave Apple users an advantage over MicroUSB, the dominant connector used on Android-powered devices, which uses a directional connector.
Read more: USB Type-C Connector Poised to Rival Apple's Lightning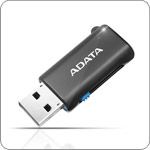 While many of today's Android-powered smartphones feature things like high-resolution screens, impressive cameras, and quad-core processors, many of them fall short when it comes to storage. Yes, even top of the line smartphones from Samsung, Motorola, HTC, and others will come with a paltry 4GB, 8GB, or 16GB of internal memory. For a power user, that simply isn't enough!
Many of today's HD games and apps for smartphones can take up to 1.5GB to install. Users with large collections of music, videos, and apps may also be feeling the pinch of limited storage space on their devices.
Read more: ADATA Introduces USB OTG MicroReader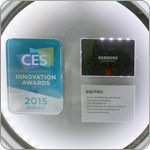 The falling cost and increasing reliability of solid-state drives (SSDs) has resulted in them becoming more and more commonplace. At the forefront of these new storage devices is Samsung, which is blazing forward with their new 850 EVO and 850 PRO line of disk drives.
We stopped by Samsung's booth at CES 2015 to learn about their new line of 850-series drives and some of their exciting new features.
The 850-series uses 3D V-NAND, which is similar to the NAND flash memory used in USB flash drives. Samsung is offering a stunning 10-year limited warranty on their new drives, which is pretty amazing!
A maximum 550 MB/s sequential read speed means blistering performance. In sleep mode, the device uses just 2mW of power – which means improved battery life for laptops and notebooks!
These drives will be available in mSATA, standard 2.5″, and M.2 form factors. Capacities will be 120 GB, 250 GB, 500GB, and 1TB. Pricing has not yet been announced, but we expect the drives to be available for purchase later this year.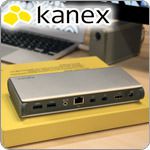 The battle for faster speeds is heating up in the Thunderbolt vs. USB war! While we were at CES 2015, we stopped by our friends at Kanex to check out their latest accessories.
They gave us a preview of the new Thunderbolt 2.0 Express Dock, which is available for both Mac and PC users. The dock allows users to expand their home or office computer with additional ports, located conveniently on their desk.
The Express Dock includes three USB 3.0 ports, two Thunderbolt 2.0 ports, an audio connection, and an HDMI connection. It supports a 4K cinema display resolution and allows you to add a Thunderbolt-connected display to your machine.
This dock is an excellent choice for graphic designers, audio engineers, video editors, and other creative professionals who need the versatility of being able to accept Thunderbolt or USB devices from clients. It allows you to connect up to 8 different devices to your computer – pretty handy!
The Thunderbolt 2.0 Express Dock is scheduled to ship in March of this year with an MSRP of $250.00 USD.