ADATA Introduces USB OTG MicroReader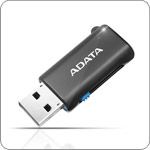 While many of today's Android-powered smartphones feature things like high-resolution screens, impressive cameras, and quad-core processors, many of them fall short when it comes to storage. Yes, even top of the line smartphones from Samsung, Motorola, HTC, and others will come with a paltry 4GB, 8GB, or 16GB of internal memory. For a power user, that simply isn't enough!
Many of today's HD games and apps for smartphones can take up to 1.5GB to install. Users with large collections of music, videos, and apps may also be feeling the pinch of limited storage space on their devices.
Fortunately, ADATA has got you covered. They have just announced a new USB OTG MicroReader that works with Android-powered smartphones and tablets (version 4.0 and higher). This will allow you to attach a MicroSD card of up to 64GB to your device!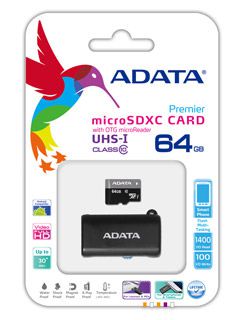 The MicroReader is about the size of a USB drive and contains a standard USB connector as well as a microUSB connector, which will attach to the microUSB port on your device. Just slide the microSD card of your choice into the reader and connect it! The slim profile will not block additional USB ports when connected to a laptop, and it features a capless design so there is no worry of ever losing the cap! There's also a key loop for attaching the reader to a keychain or lanyard.
ADATA sells the reader by itself, and as a bundle with a MicroSD card. Available sizes are 8, 16, and 32GB in MicroSDHC and 64GB in MicroSDXC. The reader is available now for $9.99 MSRP.
I think ADATA is doing a great job of responding to the consumer's needs in the mobile market. This affordable gadget is an essential accessory for both viewing and transferring files between a computer or between two mobile devices. It is well-built and reasonably priced at just $10 bucks. What's not to like?!