CES 2015: Samsung 850 EVO and 850 PRO SSDs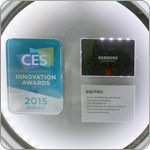 The falling cost and increasing reliability of solid-state drives (SSDs) has resulted in them becoming more and more commonplace. At the forefront of these new storage devices is Samsung, which is blazing forward with their new 850 EVO and 850 PRO line of disk drives.
We stopped by Samsung's booth at CES 2015 to learn about their new line of 850-series drives and some of their exciting new features.
The 850-series uses 3D V-NAND, which is similar to the NAND flash memory used in USB flash drives. Samsung is offering a stunning 10-year limited warranty on their new drives, which is pretty amazing!
A maximum 550 MB/s sequential read speed means blistering performance. In sleep mode, the device uses just 2mW of power – which means improved battery life for laptops and notebooks!
These drives will be available in mSATA, standard 2.5″, and M.2 form factors. Capacities will be 120 GB, 250 GB, 500GB, and 1TB. Pricing has not yet been announced, but we expect the drives to be available for purchase later this year.