CES 2015: Kanex Introduces Thunderbolt 2.0 Express Dock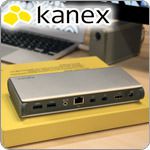 The battle for faster speeds is heating up in the Thunderbolt vs. USB war! While we were at CES 2015, we stopped by our friends at Kanex to check out their latest accessories.
They gave us a preview of the new Thunderbolt 2.0 Express Dock, which is available for both Mac and PC users. The dock allows users to expand their home or office computer with additional ports, located conveniently on their desk.
The Express Dock includes three USB 3.0 ports, two Thunderbolt 2.0 ports, an audio connection, and an HDMI connection. It supports a 4K cinema display resolution and allows you to add a Thunderbolt-connected display to your machine.
This dock is an excellent choice for graphic designers, audio engineers, video editors, and other creative professionals who need the versatility of being able to accept Thunderbolt or USB devices from clients. It allows you to connect up to 8 different devices to your computer – pretty handy!
The Thunderbolt 2.0 Express Dock is scheduled to ship in March of this year with an MSRP of $250.00 USD.