New SanDisk 512GB SDXC Memory Card is World's Largest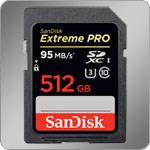 Recently, SanDisk surprised the electronics industry with a major announcement. Their engineers have created the world's highest-capacity memory card, which holds a stunning 512GB of data!
The new card was introduced at the International Broadcasting Convention in Amsterdam, which is a trade show for broadcast media and press industry. Branded as SDXC (Secure Digital eXtended Capacity), the card uses NAND flash memory similar to what is used in smartphones, USB flash drives and other digital storage.
SanDisk have designed these Class 10 cards for high speed and performance, such as recording video in 4K UltraHD. These cards will be ideally suited to the next generation of DSLR cameras from Nikon and Canon, as well as action cameras such as the GoPro.
The new cards will come in capacities of 128GB, 256GB, and 512GB, which should be enough to record lots of fast-action video and photos. The new line of cards are also blisteringly fast, with write speeds will be up to 90 MB/s and transfer speeds as high as 95 MB/s.
These are professional-grade memory cards which are shock-proof, waterproof, magnet and x-ray proof, and are designed to survive in extreme temperatures.
Dinesh Bahal, SanDisk's VP of product marketing, had this to say about the new memory cards: "As an industry leader, SanDisk continues to push the boundaries of technology to provide customers with the innovative, reliable, high-performance solutions they have come to expect from us."
Of course, this performance comes at a very steep price! The 512GB Extreme PRO SDXC UHS-I card will be available for $799.99 (MSRP). Unless you are a professional videographer or high end photographer, these cards are probably out of your budget.