USB Promoter Group Finalizes Type-C Connector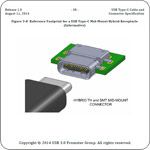 The USB Promoter Group and USB Implementers Forum have been working together on a new connector called Type-C. Just this week, the group has announced that the new specifications are finalized and ready to enter production!
The USB Type-C connector will have several big advantages over Micro USB, which is the current standard found on nearly all of today's smartphones and tablets.
1. Faster Speed
USB Type-C supports USB 3.1 SuperSpeed with data transfer rates up to 10 Gbps. This will be much faster than Micro USB, which supports USB 2.0.
2. More Power
USB Type-C supports increased power delivery of 3A for standard cables and 5A for connectors. This will allow for faster charging of mobile devices such as phones and tablets. The current generation of connectors only supports power delivery up to 1 amp.
3. All-New Slim Design
The entirely new design of the USB Type-C connector is ideal for tech devices including laptops, tablets, and smartphones. At less than 3mm in height, it is a great match for today's ultra-slim devices.
4. Reversible Plug
Micro USB connectors are "keyed" so that they can only be inserted one way. On one hand, this is brilliant because it prevents the user from inserting the cable the "wrong way." However, this idea makes for a frustrating experience in the real world, and the USB Forum has finally caught on.
The new Type-C connector features a reversible plug orientation, which means no more fumbling with connecting the cord in a specific way. There is no "top" or "bottom" of the new cables – just plug it in and go! This is similar to Apple's Lightning connector which was introduced on the iPhone 5.
With so much to look forward to about USB Type-C, I am eagerly awaiting the day these connections start showing up in smart devices. Hopefully, we should see devices with the new connector in stores by Christmas or sometime in early 2015.