SanDisk Introduces World's Fastest SD Card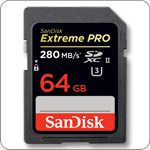 SD cards are an essential form of storage in today's modern world. They are used in digital cameras, smartphones and tablets, laptops, and in embedded systems worldwide. Now, SanDisk has announced the new king of speed: the Extreme PRO SD UHS-II family of SD cards.
With write speeds of up to 250MB/s and read speeds of 280MB/s, these new storage devices have earned the title of World's Fastest SD Card.
SanDisk's Extreme PRO cards use NAND flash memory, the same type found in USB flash drives, RAMdisks, and other high-speed data storage devices. This type of memory offers fast transfer speeds with a huge number of rewrite cycles. For more about these formats, check out our article on the differences between USB flash drives vs. SD cards.
These new cards will be of interest to digital videographers, particularly those who shoot with DSLR or professional-grade gear. The high write speed will allow for seamless capturing of high-definition video with no drops or lags. For still photographers who shoot in RAW+JPG, there will be no delays when taking fast sequences of photos, particularly in burst mode.
Another feature of SD cards is their incredible durability. This card is shockproof, X-ray proof, and waterproof and works in temperatures ranging from -13 to 185 degrees Fahrenheit. In an extreme environment, your card will survive (even if your device doesn't).
The new Extreme PRO UHS-II  cards are available in three sizes: 16GB, 32GB, and 64GB with pricing at $119.99 for the smallest and $299.99 for the top model. They are expected to go on sale later this month online and in major big-box retailers.