CES 2014: SuperTalent Introduces USB 3.0 DRAM Disk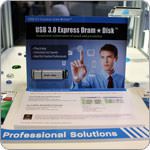 When it comes to raw performance, few companies in the industry push the envelope as much as Super Talent. This company is famous for making all manner of flash memory products including RAM, Solid-State Drives, RAMdisks, USB flash drives, and other memory-related devices.
We've reported on Super Talent's awesome products in the past, including their USB 3.0 SSD which we saw at CES 2012. This year, we got a glimpse of their new USB 3.0 Express DRAM Disk.
So what is a DRAM Disk and how is it different from a USB flash drive? Well the DRAM Disk is about the same size as a USB flash drive and comes in similar capacities, but the way it works is more like a solid-state drive (SSD). This drive is special because it uses your computer's system memory, along with special software, to offer insanely fast read/write speeds that far outpace any SSD on the market today.
A pretty high-end solid-state drive (such as the Samsung 840 Pro 256GB recently featured on Tom's Hardware) offers read/write speeds of 532 MB/s and 491 MB/s, respectively. Super Talent's DRAM Disk blows this (and every other SSD) out of the water with read/write times of 4041 MB/s and 5388 MB/s. That is mind-blowingly fast performance.
The benefits of such fast speeds will be immediately obvious to creative professionals such as graphic designers, audio engineers, video editors, 3D artists, and other people who often find themselves waiting on massive files to save or open.
The drive is pocket-sized and small enough to fit on a keyring, which is pretty cool. The drive's body is made from aluminum, which makes it tough enough to tote around with you as a daily carry item.
The drive is available in 8GB, 16GB, 32GB, and 64 GB capacities. Prices range from $10.99 for the smallest model to $42.99 for the 64GB model.
I think this is an exciting way to obtain super fast read/write speeds without spending a big chunk of money. We look forward to seeing what Super Talent comes up with for next year!