CES 2014: Corning Introduces Optical Thunderbolt Cables
Last year at CES, we reported on Corning's exciting optical cables for USB 3.0. We caught up with Corning again at CES 2014 and learned that the company has recently developed a Thunderbolt version of these cables as well!
Corning is the company behind Gorilla Glass, the super-tough glass that's found in virtually all of today's high-end smartphone screens. These guys have taken their knowledge of the properties of glass and used it to develop a line of optical fiber cables for computer users.
Whereas a traditional cable sends electrical impulses down an insulated copper wire, Corning's cables transmit information as pulses of light through a glass core protected by several layers of cladding. They are ideal for long-distance runs, which has always been a troublesome task for copper cables.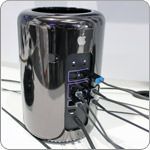 Optical cables have several advantages over existing copper cables. One key benefit is that they are significantly lighter and smaller than bulky, heavily-insulated copper wires. These cables can be run discreetly for long distances with virtually no signal loss due to electro-magnetic interference (EMI). This makes them ideal for recording studios, servers, home theater, and many other environments.
But what about durability? Can you bend and flex a cable that has a glass core? Just watch the video as the Corning representative demonstrates a 180-degree bend in the cable in a 1-inch channel. It is still able to pass the light through the cable! As she says in the clip, these cables can be run over, tied in knots, and still work just fine. Durability is not a problem.
The 10-meter Thunderbolt cable is available in the Apple Store for $329. As mentioned in the video, the company has even longer cables coming out later this year.
It is exciting to see such a big improvement in something most of us never think about: cables. I can see these optical Thunderbolt cables catching on, especially once the new Mac Pro starts shipping next month! We'd like to thank Corning for their support in showing us their latest innovations.
MAY 2014 UPDATE: It seems the 33-foot cable is no longer available from the Apple Store website.