USB Forum Announces New Type-C Connector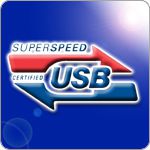 With the 2014 International CES show just around the corner, rumors are flying about what new technologies will be on display in January. At the 2013 CES show, we reported on the USB Implementer Forum's new SuperSpeed USB 3.0 specification, with bandwidth up to 10Gbps.
This year, the USB Implementer's Forum has announced a new connector which they are calling USB Type-C. The new connector was announced in advance of CES, and will hopefully be on display at the show.
What makes this new connector special? Well up until now, all USB connectors have been keyed or unidirectional, meaning that they only fit one way. This has been the case going back to the early days of USB in the 1990s. Personally, I think that keyed connectors are a great idea because they ensure that a cable or cord is plugged in correctly. The design of the connector makes it impossible for a user to do it wrong.
However, many of the news articles covering the announcement of USB Type-C are heralding it as a big step forward in usability, a sigh of relief that users have been waiting to exhale for years.
It is likely that the new bidirectional (reversible) USB cable was introduced as a response to Apple's Lightning connector, which also works any way that you plug it in. There is no "upside down" or "wrong way up" with a Lightning connector.
Personally, the fact that USB connectors are keyed has never been a problem for me. In fact, it's never even crossed my mind that someone could get annoyed by this until just recently, when I started reading other news articles about this. The comments from exasperated users welcoming a reversible cable are frankly quite baffling to me.
I haven't ever struggled to lock my front door because the key only fits one way. I haven't ever had difficulty in connecting a telephone cord, fax machine, Internet connection, power cable, or any other type of device with a keyed connector. It's just not that difficult!
But if you are one of the people who are tired of flipping your USB flash drive or data cable around the other way, your troubles will soon be over.
We look forward to bringing you more about USB Type-C after the International CES show in January 2014.