Recap: Top USB News Stories of 2013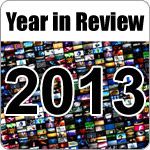 As 2013 draws to a close, we're going to take a moment to look back upon the biggest USB news stories of the past year.
PremiumUSB attended the International CES show in January where we saw a lot of cool technologies. These included optical USB cables from Corning (makers of Gorilla Glass), SuperSpeed USB 3.0, and the EZ-USB FX3 USB controller chip from Cypress Semiconductor. We also debuted the launch of our Flashscot U.S. Army USB drives and our line of QuikVolt USB car chargers.
In February, we ran an article about custom flash drives for wedding photographers which went on to become our most popular post of the whole year!
We wrote a helpful guide with 4 Tips for Marketing Your Small Business in March. Then, we featured a custom-shaped flash drive that we produced for musical comedy duo Paul and Storm.
In April, we added a new surfboard-shaped USB drive to our line of custom flash drives. Called the Cowabunga drive, it is available in capacities ranging from 128MB all the way up to 32GB.
PremiumUSB introduced three new custom services in May: custom-printed headphones, custom USB car chargers, and custom smartphone cases. Each of these is designed to turn your brand into a memorable and useful promotional item.
In June, we covered the USB Implementer Forum's huge announcement of a USB 3.5 specification coming for 2014! The revised version will feature data transfer speeds of up to 10 Gbps.
Back in July, we brought you an in-depth look at the custom "Grad Pack" we have produced for Arizona State University. These digital graduation programs feature a custom USB drive in our exclusive FlashPac case along with a printed case insert.
Things continued to heat up in September as we brought you two more case studies from real PremiumUSB customers. The first was a custom shaped USB drive for Red 5 Studios, a PC game developer in California staffed by former Blizzard Entertainment employees. Second, we produced an Eco-friendly drive for Free People, an independent clothing company for women. Finally, we wrote about USB price fluctuations as a result of a fire at the SK Hynix factory in China.
In November, we covered the SD Association's new speed ratings for SDHC and SDXC memory cards, which use a non-bootable version of the same NAND flash memory found in USB drives.
Finally, we covered the announcement of the USB Type-C connector in December. This was one of two big stories for the month, along with the sad news that OCZ Technology was filing for bankruptcy after 13 years in the computer memory, flash, and SSD manufacturing business.
The USB flash industry has been full of ups and downs in 2013, from new product announcements to companies closing their doors. We have tried our best to provide readers with clear and original accounts of the biggest news stories in flash memory over the past few years, and we look forward to more great years in 2014 and beyond!