College Licensed Flash Pac: Digital Orientation Packet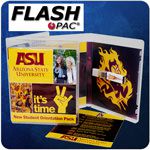 Whether you just happen to be a college recruiter looking to draw students to your institution, an orientation director looking for a new way to consolidate information, or a graduation administrator trying to reach everyone in time, don't look further than the college licensed USB Flash Pac to customize your content and pack the biggest punch.
Flash Pacs are a special type of custom case for USB flash drives, cases that can accommodate a booklet, CDs, DVDs, and Blu-ray discs and fully branded with college logos and colors!
US Digital Media is responsible for manufacturing the Flash Pac cases. The company has an influential role in media duplication and storage. The company's Flash Pac line of cases consists of four different types of USB flash drive cases. These are USB cases with CDs, those with Dual Layer DVDs, those with Blu-ray Disc, and one type of case just for mini USB flash drives. All the Flash Pac cases have a tray or more where you can store USB drive, inner clips to hold customized booklets or inserts, and an outer sleeve that can hold a cover design.
With the exception of the mini USB cases, each type of Flash Pac case comes with a disc tray that can hold a CD, DVD, or Blu-ray disc. The cases are made of a clear plastic to ensure that it's the content that people notice first. They are also manufactured according to standard DVD case dimensions (again, with the exception of the mini USB case) to make sure that they fit inside most shelves. US Digital Media offers customization services for the Flash Pacs that you may want to order. The services range from all-out custom printing packages or just simple color printing and inserts.
Whatever you may need it for, Flash Pac cases add a personal touch. As a matter of fact, US Digital Media expects them to be used for a number of reasons. Some ideas suggested by the company are as part of orientation packets (for college maybe), marketing tools and promos, annual reports, and software distribution among so many more uses. Not only do Flash Pacs help such instances, they also serve a very basic function. They protect the USB inside from the elements.