Charge Your iPhone 5 with USB Cord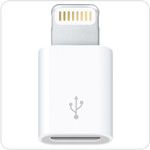 It is so frustrating to be the only iPhone user in an office, while everyone else uses an Android phone. Mostly because, if I forget to bring my special Apple-only connector to charge, I am out of luck! While all my co-workers can share their micro-USB chargers, I am stuck with a drained phone.
It is moments like this that make you question why Apple sticks with the Lightning connector while everything else is micro-USB. In light of this problem, a new solution was innovated. Simply called Lightning to Micro USB Adapter.
The Lightning to Micro-USB adapter can be used for syncing and charging your iPhone, iPad or iPod with Lightning connector by connecting them to a micro USB cable. According to the Apple Store, the accessory is compatible with your iPhone 5, iPod touch 5th generation, iPod nano 7th generation, iPad 4th generation and iPad mini.
The Lightning to Micro USB adapter became available in the U.S. for the first time earlier this month but has already been used by people in Europe. The policy which was introduced in 2010 by the European Union, in an effort to standardize charging system of mobile device manufacturers, required that every new phone sold in Europe must be able to support charging via micro USB. The adapter was then included in the package of iPhone 4s buyers in Europe.
With this adapter, users can charge their Apple mobile devices via the more commonly used micro USB adapters. That is, no more reasons for tantrums when you realize you forgot your iPhone charger at home, because you are now able to borrow any charger from just about anyone.
Its price, however, is a downside. The Lightning to Micro USB adapter is sold for $19, the same amount you will spend when you buy a separate Lightning cable. On the brighter side, it spares you from having to add to your already wide collection of cables and wires. The adapter is sold at the Apple Store but is expected to be available in your favorite tech shops soon.