USB Drive Port YES, Ethernet Cord NO On The Microsoft Surface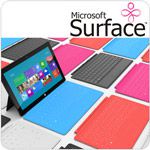 It looks like Microsoft is finally ready to dip its feet into the tablet industry. The company will be releasing its own tablet, Microsoft Surface RT, as an answer to Apple's iPad on October 26. It's hard to gauge at this stage just how much success is destined for the tablet. It has a lot of promising features, but there are also a couple that raise a few eyebrows, especially when connectivity is the topic at hand.
Of course, it features USB 2.0 ports for your many USB flash drives. However, Davuluri confirmed "We are not offering an ethernet to USB bridge solution for wired scenarios" , but the USB 2.0 port will support "millions of devices."
Pre-orders for Microsoft Surface have already started, enabling users eager to jump on the Microsoft bandwagon to reserve a tablet for themselves before slots run out. A quick read-through of the features proposed by Microsoft makes the Surface out into a very versatile and enticing tablet. Upon release, it will be compatible with Xbox 360 controllers, will have an active battery life of eight hours (and idle longevity of about seven to fifteen days), be offered in 32 GB and 64 GB versions, and have a screen that's not as conducive to glare as the iPad.
The Surface will also be equipped with a USB 2.0 port for USB flash drives and a micro-SD slot for additional storage options. One significant limiting feature of Microsoft Surface, however, is its having only one connectivity option: Wi-Fi. Whether this can be considered a flaw is still too early to determine, since Microsoft has stated that most tablets, about two-thirds of those in the market, offer Wi-Fi as the sole connectivity option. Considering that the tablet has a USB port, the least Microsoft could have done is allow support for Ethernet cables. It wouldn't hurt to expand connectivity to at least two options.
Unfortunately, even having a USB-to-Ethernet adapter won't give users the freedom to connect Microsoft Surface into a wired network. Let's hope that this decision won't hurt Microsoft once Surface becomes available to consumers. Amazon and Apple are, after all, very formidable competitors to have in the tablet market, and both also have a well-established line of models to draw experience from.
Microsoft Surface will be retailing at a starting price of $499. The tablet can only be purchased through Microsoft's online store or in brick and mortar ones throughout the U.S. Make sure you share your experience with the new Microsoft Surface with us by adding comments below!