How To Make Make A Custom USB Flash Drive That Looks Like A USB Cable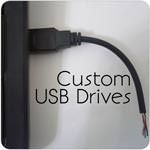 Customizing your own USB drive is fun. Making it look like a USB power cable that is frayed and disconnected is really funny! Even better, this is a great tip for making your own DIY custom USB flash drive. With just a few simple steps and a few tools, you too can make heads turn when you pull out your USB drive, plug it in to your laptop, and all anyone else sees is a broken cord.
The uses for a custom USB drive are many, from storing movies, photos and music to updating operating systems with the newest software. Of course, they can also power your devices – but not this one! So read below for the step by step directions from instructables.com how to make your own custom USB flash drive.
Materials
Get together an old USB cord, a small flash drive like the Versa Clip USB flash drive. Now get  pair of pliers, cutters and electrical tape.
Step 1
Grab the old USB cable. Cut open the rubber casing holding the  USB connector.

Step 2
Take out the old USB connector and insert the small USB drive.

Step 3
Use the electrical tape to close and secure the cable.

Step 4
Finally, cut the cable and expose the wires (now totally incapable of doing anything but fooling onlookers). Fray the inside cables.
Inspiration and images via Instructables.com