USB Devices Get Recharged Faster: Here's How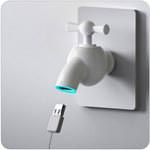 We've all been in that situation where we've needed to recharge our devices but couldn't get to a power outlet. For instance, it's a rare occurrence to get close to a power outlet at a coffee shop or the airport. But with all of the mobile devices that you take with you while you're on the go, you should expect nothing less from being able to charge these devices while you're on the go as well.
Fortunately, many of these mobile devices can be charged from your laptop and desktop's USB port or by a mobile USB charger. This is great for people who are not always able to get to a power outlet but need to charge up essential USB products such as smartphones, MP3 players and digital cameras. You can even upload and manage your files from these devices while you charge them with your computer.

USB Charging
However, there is a downside to charging your devices using a standard USB port: a typical USB 2.0 port can only deliver up to 500 millamps (mA) of power. When compared to an AC wall charger that can deliver up to 900mA or 1000mA of power and a car charger that can supply from 1000mA to 2100mA of power, you can deduce that charging your device with your USB port is the considerably slower option.  Additionally, some larger devices such as tablets aren't able to be charged through a standard USB port due to their higher power requirements.
Wall Outlet Charging
Hence, the best way to recharge your USB device is through an AC wall charger (although car chargers supply a considerable amount of power, your car must be turned on to charge your device which isn't entirely environmentally friendly – plus, it may be easier and cheaper to have access to a power outlet rather than a car!).  This is the fastest way, almost without exception, of charging USB devices. Plug them in.
If you, like many people, are constantly on the go and need to charge your devices but don't have access to power, you can always use your USB port to top up the power supply on your device.  However, USB 3.0 ports are the new development in the USB world and can charge your devices with the same power as an AC wall charger.