Lightning USB vs USB 3.0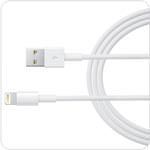 The debut of the iPhone 5 comes with something for Apple product consumers: the new Lightning USB cable. In case you were wondering, Apple designed this new connector specifically for the iPhone 5, so far the only device that is natively compatible with the USB connector. The USB's name has got some people claiming misrepresentation. The clamor is mainly focused around the fact that Apple's new Lightning cable has absolutely no changes in speed compared to the old 30-pin connector. These are harsh words when USB 3.0 really means FAST!
No Speed Change
So, it's been established that the data transfer speeds for the new iPhone 5 USB cable hasn't changed. It will still offer the same speeds as the old connector, which meets the performance specifications for USB 2.0. Apparently, the reason the new soon-to-be-released cables are dubbed "Lightning" is not because of a speed improvement, but rather a hardware design as the new cables are more durable, dual-edged, and digital.
Consumer Expectations
Perhaps the incidental misrepresentation of what the Lightning USB cable has to offer has something to do with the misalignment between consumers' expectations of improved performance and Apple's vision for the connector's future use. Forever obsessed with form factor, Apple wanted to reduce the size of its 9-year-old 30-pin connector. The size was already hindering the company's ability to release smaller versions of previous products. A notable example is the iPod Nano. The company also wanted to improve the technology of the USB cable; the old connector was a mix of analog and digital, a configuration fast becoming antiquated in a world where technology is moving into a purely digital stage.
Consequently, what came out of Apple's vision was the Lightning USB cable, an all-digital connector that keeps in line with the sleek and minimal image of Apple. It's 80% smaller than the 30-pin connector and reversible.
Lightning vs. USB 3.0
However, it is expected that the question of why the Lightning cables don't meet USB 3.0 data transfer specifications will be hovering for quite a while. Though the fact is leading to initial consumer disappointment, a final verdict won't be available until Apple debuts the iPhone 5. The Lightning USB cables will be shipping out at the same time, priced at $19 when an iPhone 5 is purchased. There are two compact plug adapters that will allow Lightning-to-30-pin connection; the price is set at $29 with additional $10 for an 8″ cable extension.