Create a Bootable USB Drive for Apple OS X Mountain Lion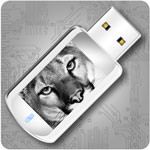 Constantly downloading OS X Mountain Lion to update Macs can get cumbersome and time-consuming, especially when it involves several computers. The traditional solution to shorten it is to burn a copy of Mountain Lion into a DVD then boot each computer from the disk. But did you know that the same is possible using USB flash drives?
Yes! Creating a bootable USB for Mountain Lion means more portability, ideal for situations where computers needing updates are in different places. Below is a quick tutorial, using Lion Disk Maker, a donationware app, or OS X's Disk Utility. Choose the program that is best for you and use a good, high capacity USB drive. Any drive you use will help you have the portability you need to get the newest version of the Mac OS X.
How To Download Mac OS X Mountain Lion On Your USB
Whether you choose Lion Disk Maker or Disk Utility, two things need to be ready beforehand: the OS update and the flash drive. Here are full step-by-step directions on downloading the Mac OS X on the USB. Download Mountain Lion from the App Store but don't install it yet, since the file disappears from the Applications folder after installation. Get a USB drive that has at least 8 GB of storage, and make sure it's clear of any important files. Now, you're ready.
Using Lion Disk Maker is the easier option of the two. Load the program, plug in your USB, select your options, and watch the application find your OS update and create a bootable disk out of your USB. Using Disk Utility is a little more involved but saves you the trouble of downloading Lion Disk Maker.
For starters, find the file "Install Mac OS X Mountain Lion.app" in the Applications folder
Right-click and go to "Show Package Contents"
Go through the "Contents" folder and into the "Shared Support" folder
Copy the file "InstallESD.dmg" to your desktop or sidebar
Getting Mac OS X On the USB
Plug in your USB drive then launch Disk Utility
Select the USB drive you'll be using then format it to "Mac OS Extended (Journaled)"
Give the USB a name, if you want, to make it easy for you to recognize it once it becomes a bootable disk. You can even give your USB a cool image, which we had describe in our previously written post about how to create icon for USB drives
To make sure the drive gets formatted correctly, go to Options and select "GUID Partition Table" then click Apply
You're going to restore next; so in the Restore tab, select the DMG file that you copied as your source and the USB as the destination
Click Apply then wait for the task to finish
Once it's done, you now have a bootable USB drive. Restart your Mac with the drive plugged in, press and hold the Option key, then select the drive. Mountain Lion will now install on your Mac.
Get going using your USB drive with Mac OS X Mountain Lion!