How USB OTG Improves Smartphone and Tablets Like Samsung Galaxy S3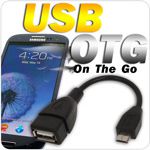 In case you haven't noticed, smartphones and tablets are really mini-computers. Compatible with a host of peripheral devices and software, mobile computing – in all its forms – is coming of age. Much like the advent of the powerful personal computer, OTG (On-The-Go) technology is on track to bring full mobile computing and make laptops look like clunky dinosaurs.
In the latest smartphone news, the Samsung has equipped its Galaxy S3 with USB On-the-Go (USB OTG). You may have dismissed this feature as a minor one (almost negligible) and focused your attention, instead, on the 8 megapixel camera with HD video capabilities, the Android 4.0 Ice Cream Sandwich system, or the 4.8-inch scratch and impact resistant screen. Those features are definitely worth the oooh's and aaah's, but the humble USB OTG support on the Samsung Galaxy S3 has surprises in store you never thought would improve your user experience.
USB OTG
With a simple USB on-the-go adaptor, you can use the newest smartphones and tablets with a surprising number of compatible USB devices. Common storage devices such as USB flash drives and external hard drives can be used in conjunction with new mobile devices and a USB on-the-go adaptor.
How It Works
Simply insert one end of the adaptor into smartphone and connect a USB device to the other.
The phone will take a couple of seconds to index the contents
Everything stored on the device will be displayed on the phone in the exact same layout and format as you would expect on a computer
Browse and open folders and files – You can view everything from photos and videos, to Microsoft Office documents and PDF files, etc.
Copy stored files onto the phones internal storage or microSD card simply by dragging and dropping them into the correct location
Samsung Galaxy S3
To start things off, the USB OTG support on the Galaxy S3 gives it the ability to temporarily replace a desktop or laptop. How? OTG support for mobile devices means that the units can act as either hosts or peripherals. This means it can be recognized by a PC (peripheral function) or it can recognize other devices connected to it via cable or Bluetooth without a PC acting as an intermediary (host function).
Features
Wireless devices such as keyboard and mouse products can be connected to make your smartphone a computer screen.
Connect a wireless keyboard (via Bluetooth) to type anytime you want to replace using the onscreen QWERTY keyboard
Connect a mouse so a cursor appears on the screen and use to click applications, toolbars and links etc, rather than using the touch screen
If you follow and develop this logic, it's easy to imagine leaving the bulky laptop at home on your next business trip or vacation. All you will need is the Galaxy S3, a Bluetooth mouse and keyboard, a flash drive, and your hotel's TV (if it happens to be equipped with an HDMI input). For at-home users, this newfound versatility can mean printing documents directly from your mobile device, instead of having to transfer your files to a PC first.
Gaming
Additionally, for gaming fans, the Galaxy S3's OTG breaks you out of the confines of a gaming console. With verified support for and compatibility with WiiMotes and PS3 controllers, you can play your favorite game consoles on your smartphone. A little more tweaking here and there and it really is possible to get a midi keyboard up and running.
The custom configuration available to the user abounds, thanks to the USB OTG support paired with Android Ice Cream Sandwich in the Galaxy S3. Now we know that even more far-fetched ideas may become possible with continued development of USB OTG in smartphones, whether it's Galaxy S3 or not.
Does this news excites you and makes you want to get an S3? Tell us why or why not.