USB 3.0 Comparison: USB 3.0 versus Thunderbolt, Firewire and eSATA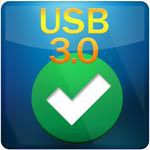 The renewed buzz around the USB 3.0 interface mostly revolves around its impressively high data transfer speeds. Boasting speeds ten times faster than the mainstream standard USB 2.0, the buzz isn't all hot air. Often though, USB 3.0 is not only compared to USB 2.0, but to other interfaces such as Thunderbolt, Firewire, and eSATA. To the layman who has no vested interest in this seemingly esoteric knowledge, a quick overview of terms and comparison of features may offer clarity.
First up is Thunderbolt, an interface designed by Intel to transfer data at a rate of 10 GB/s bi-directionally. Its purpose is to connect peripheral devices (like monitors) to a computer through an external hub, especially when the computer is a Mac. Based on the transfer speed alone, it seems that USB 3.0 stands no chance against Thunderbolt. But USB 3.0 beats Thunderbolt precisely because the former is mainstream and budget-friendly. USB is a name computer users recognize; Thunderbolt is for the savvier users. Additionally, for Thunderbolt to reach its recorded 10 GB/s of speed, it needs to be outfitted with expensive accessories, a huge con for those wary of plunking down a wad of cash just for speed. USB 3.0 prices, on the other hand, are dropping to the point that they're competing with USB 2.0. Add the fact that USB 3.0 speeds are more than enough for the average user's needs, and choosing USB 3.0 over Thunderbolt is like exercising common sense.
Next up for critique is USB 2.0, the predecessor of USB 3.0. Technically ten times slower than USB 3.0, USB 2.0 buoys itself up by being even more mainstream than USB 3.0. The interface comes standard in most computers and boasts compatibility with many computer accessories. Furthermore, USB 2.0's bandwidth currently handles most applications well, rendering an upgrade to USB 3.0 unnecessary and, at times, pricey. It will obviously take a while for USB 3.0 to completely phase out USB 2.0.
USB 3.0 vs.Firewire
Third on the comparison list is Firewire. Invented by Apple, Firewire was the interface overshadowed by USB 2.0. That's unfortunate, since Firewire has a large speed advantage over USB 2.0 and isn't that far behind USB 3.0. Firewire averages at a speed of 90 MB/s, USB 2.0, 40 MB/s, and USB 3.0, 150 MB. Apple, however, is banking on the success of Thunderbolt, its collaborative effort with Intel, to get users to switch to their new data transfer technology. That's the Apple way after all, get them hooked on an expensive proprietary device, modify it slightly, than make the old version obsolete. Works like a charm – on Apple devotees.
USB 3.0 vs. eSATA
Last is eSATA, an interface that allows hard drives to increase performance potential. Clearly more high performance than both Firewire and USB 2.0, eSATA boasts transfer speeds of up to 3.2 GB/s. Unfortunately, it has a few crucial drawbacks: short cable lengths, no power support to devices and incompatibility with portable devices.
Now that you have some basic information about these technologies, which do you think would suffice your need?