How Custom USB Flash Drives Are Made Video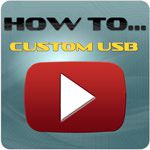 Ever wondered how custom USB flash drives are made? These totally touchable tech gadgets are more than just for digital storage – they are a the perfect way to reflect a personality, a company, a school or anything you can possibly dream up. From logos to mascots, the process of designing a custom flash drive is pretty easy and definitely fun which we talked about here in detail with tips to create custom shaped USB. But did you know that mostly, each drive is created one-by-one, each one crafted by hand!?
In this video, we show how a Custom Molded USB Drive is made in our workshop. If you can dream it, then it can be created. Below is a transcript of the video so you can follow along and learn a little more about how an idea turns into a fully functional flash drive.
Transcript:
We are starting with a molded jig of what will eventually be a custom molded USB barrel in the end.
First, a white PVC is applied to the outer most groves which will be the lettering.  After being heated for a moment, the PVC is swabbed into the  grooves to ensure a  detailed finish to the mold as seen here.
Next,  black PVC is applied to both sides  of the jig. A spacer is also placed between the two, to make room for the core. The two halves are then heated.
After a moment, the two sides are brought back, where additional PVC is added to the spacer. The two pieces are then sandwiched together and prepped for heated compression.
After the two jigs are compressed, they are immediately cooled in water.
Carefully, the pieces are pried apart, and the mold is ready to be touched up. This starts by removing the spacer which has kept an area of the drive vacant for the core.
While the mold appears to be done, it still needs a cosmetic touch up to finish. The process is started by peeling away the majority of excess molded PVC by hand. Then with a tiny blade and a lot of practice, the custom mold is finely trimmed one last time.
Upon completion you can see how the spacer has allowed perfectly for a core drive. It is clear to see how the final trimming of the drive has given it a retail ready look. All of this within minutes.
To turn your logo or great idea into a custom molded USB, contact your Flash Media experts, Premium USB.