USB 3.0 Available For All With Belkin Thunderbolt Express Dock F4U055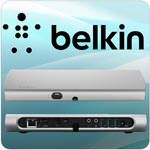 The USB 3.0 buzz has picked up as traditionally anti-USB companies like Apple and their MacBook Pro and Air computers have started to adopt the truly universal technology. As a greater influx of quality USB 3.0 flash drives and process are made available, companies only hinder themselves for ignoring this valuable technology. Most Mac users cannot, unfortunately, participate in all the commotion, since the majority of their hardware is not USB 3.0 compatible. Belkin's release of the Thunderbolt Express Dock seems to be the solution, allowing everyone to benefit from the incredible versatility and speed of USB 3.0.
A Quick Overview
The Thunderbolt interface transfers data in two directions at extremely high speeds; the bi-directional channels boast speeds of 10 gigabytes (a figure that proudly claims to be 20 times the speed of USB 2.0 and 12 times the speed of Firewire 800). With that in mind, the Thunderbolt Express Dock can transfer large files with relative ease.
For example, transferring HD movies and an extensive music collection, a dreaded whole day (sometimes multi-day) event with older data transfer processes, can be completed in just a few minutes through USB 3.0 via Thunderbolt. As we mentioned in a an early post comparing the differences between Thunderbolt and USB 3.0, Thunderbolt can connect workstations with a single cable as well as improve video and audio applications with faster throughput.  As a result, the interface's external storage devices exceed the speeds of what a PC can offer.
The Specs
Not forgetting its roots as a port hub (essentially, a device developed primarily to offer desktop-like capabilities to portable computers, such as laptops, tablets, and netbooks), the Thunderbolt Express Dock model F4U055 has three USB 3.0 ports, a Firewire 800 port, a Gigabit Ethernet port, an eSATA port, a 3.5 mm-out port, a 3.5 mm-in port, and two Thunderbolt ports. The variety of ports allows the user to choose the connection best suited for the current data transfer.
Aside from the dock, Belkin is also coming up with a Thunderbolt cable that's shorter (just 3ft instead of 6ft) and less expensive than the ones offered by Apple and another brand called Kanex. The shorter cable is a relief for many users who don't really need long wires for storage applications. It will be sold at $44.99.
Though still unavailable in the market (its scheduled release is September), the Belkin Thunderbolt Express Dock is looking to offer a new world of possibilities for Mac users (and PC users because it works with it, too!). Sadly though, the price of $399.99 is steep for the benefits of USB 3.0 assuming that the PC unit is already equipped with the latest data transfer ports. But for Mac users, the Belkin Thunderbolt Express Dock may just be the answer to all those longstanding USB 3.0 and data transfer woes.