USB 2.0 and USB 3.0 Is A Huge Advantage for Microsoft's New Windows 8 Surface Tablet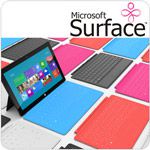 USB Friendly – Microsoft Surface Tablet A Device for the Masses
The Microsoft designers really went for the details in their first venture into Tablet hardware, chief among them two USB ports (USB 2.0 and USB 3.0) on the Windows 8 Professional version of the Surface Tablet. Measuring only 0.36-inches thin, they made sure it was just wide enough for a USB port. The fact is, Premium USB's flash drives are a key part of every day business and computing life. So much so that Premium USB continues to add to their array of unique custom shape and collegiate flash drives. The demand is steady for flash drives, and providing a port in this sleekest of commercial devices says that Microsoft is truly the People's tablet computer. In my view, this feature puts the Microsoft Surface Tablet in competition with the MacBook Air – surpassing the iPad in functionally, user-friendly features, and streamlined portability.
Why include a USB port? They are universal. While some competitor's tablets come with a USB port, the Surface tablet is a true Windows machine. This gives you the ability to customize and plug-in to your heart's content – from custom flash drives to unique gadgets like light-up mice or USB scent diffusers. And you can expect a compatible driver.
The Specs
The Windows RT tablet comes in 32GB and 64GB versions; the Windows Pro model comes in 64GB and 128GB models. Microsoft has not announced pricing or the specific launch date.
Both version have a 10.6 inch screen, two USB ports, magnesium case, Corning's flexible break-resistant Gorilla Glass screen, an incredibly thin TouchCover keyboard fold-over sleeve and a built-in stand (22-degree angle–perfect for video chats and office use).
The Windows Pro version comes with a microSDXC memory card slot that will let you use higher capacity cards. The Pro model is thicker, a bit heavier, and has a longer-lasting battery. View it at Microsoft.
As I See It
When a new tech product from Apple or Microsoft launches, it usually gets a great deal of press coverage. The media has a thing for the newest and shiniest tech toys, for sure. What is notable is the consistent attention paid to whether or not consumer-ready devices have built in USB ports! This level of interest in a digital device's USB options belies an often critical view of flash drives in the electronic media.
More often than not, tech writers bemoan the persistence of flash drive creators, touting the cloud as the end-all and be-all of digital data storage. However, the volume of interest in whether Apple's MacBook Pro or Microsoft's brand new 'Surface' Tablet has USB 2.0 or USB 3.0 ports is huge – and usually one of the first features mentioned and applauded.
And I fully agree! The interest is warranted because the USB is truly UNIVERSAL!