Free Useful Tools For Custom Flash Drive Data Recovery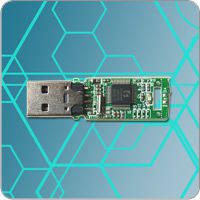 Unfortunately, lightning can and will strike when you least expect it.  In this instance, the lightning is a power outage, too many write cycles, accidental deletion, or a fatal error message, while the rod—is the data on your custom USB flash drive.  Your documents, software and multimedia seem to disappear into the digital abyss and panic sets in.
Lucky for you, all hope is not lost.  Short of the flash memory chip shattering into millions of tiny pieces recovery is possible with the help of something as simple as software (no need to even take the thumb drive in to an expert).  These free flash drive data recovery apps can do wonders to aid you in your hour of desperation as well as restore your faith in digital storage.
Recuva File Recovery
This free utility app for Windows systems is extremely versatile in the kind of data that it can bring back to life.  If you've deleted files from not only your custom flash drive, but also your external hard drive, computer or MP3 player, Recuva will retrieve it.  If an initial scan doesn't pull up your files—which it does with a 90% success rate in a short amount of time—it uses a more time consuming Deep Scan that does the grunt work of going through every nook and cranny of your flash drive or computer.  What's more is that this free program will securely wipe files you want erased forever.  Recuva will also resuscitate files deleted by malware.
When your USB flash drive has some bumps and scratches that make it impossible to access files, the free Unstoppable Copier is a good option to try.  Its specialty is recovering info from damaged devices. The free app lets you copy error files and bad sectors from your device.  From there, it will make every effort to salvage all the bits of your files that are readable to see what it can string together.  As a result, even if some parts of a file were irretrievable, most of them can be made usable once again.
Undelete Plus
This free application recovers files from pretty much anywhere: flash drives, laptops, cameras, emails, memory cards and more.  It specialized in digging for those files that have disappeared from the Recycle Bin or if your USB drive experienced a partitioning error.  It will scan your entire hard drive within minutes, so your flash drive files can be recovered in seconds.  More importantly, Undelete Plus is backed by customer support in the event that all your efforts and hair pulling come up empty handed in finding that elusive file.
What kind of free USB recovery software would you recommend?  Have you tried any of these with success?