Flash Drives on the Go with Ford's USB Music Box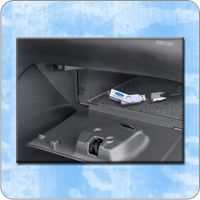 Face it, if your car is an older model that's not equipped with a USB port, your music options are limited to your CD player or your MP3 player connected by clunky adapters and cables that are more of a distraction than entertainment.  As a result, Ford has come up with a solution for some customers with a selection of older model vehicles.
Called the USB Music Box, this car gadget is compatible with your flash drives, smartphones and MP3 players thanks to a USB socket that seamlessly fits into the interior design of the car.  Put it in the center console, the glove compartment and more.   Your music files are accessed through the car's auxiliary stereo while track selections are made from remote controls that are placed on the steering wheel.  According to Ford, setup and configuration is simple and takes less than an hour.
This is a great USB concept by Ford, even though there are some drawbacks.  What it has going in its favor is that it shows that it's possible to implement USB technology in your car as a means to provide a better music experience that's easier to operate while driving.  Additionally, it gives drivers an affordable way to update their music, especially if they have an older car or lack a multipurpose smartphone.  In this instance, you just have to pick up USB flash drive for your music for under $20.
However, the Ford USB Music Box is only compatible with ten of the company's models, with the oldest models from 2003.  Moreover, the USB car system is currently only available in Europe.  What's the deal, Ford?
This USB car stereo device is brimming with potential, but flawed by a half baked execution.  The auto company needs to extend the system's compatibility to more models, as well as a more universal version that will function in pre-AUX vehicles.  What would be even better is if a consumer technology manufacturer created one that worked with multiple brands.  At that point, our USB flash drives would truly have something to sing about.
Would you use the Ford USB Music Box or a similar system with your car if it came to the U.S?  Weigh in below.