Custom USB Drive Customer Example from Orange County Fire Authority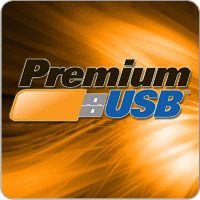 Nothing makes us happier than when customers let us share their custom USB flash drive creativity with others.  After all, it gives potential customers and shoppers the truest sense of perspective—showing how USBs can be translated from an example on our website to a valid storage and promotional tool used by real people.
Today, we have a customer example from the Orange County Fire Authority of a USB credit card, also known as a USB business card.  This style in particular uses the custom Slim Tag USB Drive, which allows for the greatest amount of printing space thanks to a large, flat surface area.  The printing method used was process CMYK, which helped to bring out vivid reds, oranges and crisp, clear black text.
The front of the custom USB drive incorporated the Orange County Fire Authority's Task Force 5 design combined with the county's orange fruit symbol as well as the state flag's bear.  The Task Force's motto, "Strength and Honor" and website for more information appear below the art.
The back side of the custom credit card USB flash drive puts the California state flag on center stage along with bold red and white printing of Task Force 5 printed underneath.  On each side, the USB itself blends in seamlessly and without interruption to the design.
The Orange County Fire Authority's custom USB drive made by Premium USB aptly illustrates what makes the credit card flash drive a wise choice for your storage or promotional needs:
–    The print surface area provides maximum attention and design impact.  The more room you have, the more eye-catching artwork, information and branding you can add.
–    The slimmer than average flash drive design enhances portability.  While it can easily go in all the places an ordinary rectangular flash drive can go; at a fraction of the width, it can be used and carried in more places including wallets, envelopes, thin pockets and more.
–    A USB credit card style offers users a sense of novelty that they have never seen from an average flash drive, such as a hidden connector and a paper thin design that looks more like a card than a storage device.
Our thanks to the Orange County Fire Authority for letting us share their design—the Authority's Task 5 force is one of 8 state and 28 national forces that respond to search and rescue FEMA and California OES efforts nation and region-wide, which help support local response agencies.
Have you ever used or thought about using a credit card USB flash drive?  Tell us what you love about them below!