Tips for Mac OS X Lion and DMG USB Flash Drive Encryption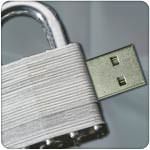 Since your USB flash drive is capable of storing pretty much any type of file your heart desires, it's essential to know how to protect the privacy of your data in the event of accidental loss or worse—theft. While some drives have built-in hardware encryption and PCs enjoy the luxury of several kinds of applications for USB encryption, the choices for Mac users were limited until OS X Lion came around.
The latest operating system from Apple features FileVault2, which has the capability to add full disk encryption to your USB flash drives as well as SD cards and hard drives (FireWire drives included, of course).  FileVault2 utilizes XTS-AES 128 encryption, which is more than enough security for the average consumer.  What's more is that FileVault2 is made to be simple to interfere as little as possible with the speed and function of your other active applications.
Some words of caution before performing USB flash drive encryption on Mac OS X Lion:  backup the data on the drive you are using or use a completely blank flash drive because the data will be automatically erased.
Additionally, you need to know there are a few drawbacks to this method.  You'll only be able to use flash drive encrypted in this way on Mac OS X Lion and that is all.  No other platforms, including the oh-so-universal Windows ones.  There is one workaround to overcome these compatibility issues however:  an encrypted Apple Disk Image (DMG) on an unencrypted flash drive.
Here's how to do both ways:
FileVault2 Mac OS X Lion USB flash drive encryption
–          Insert USB drive into port.
–          Click the Application folder, open Utilities then Disk Utility.
–          Highlight the flash drive in the left column.
–          Click on the Erase tab.
–          Select the format you want to use, Mac OS Extended with Journaled, Encrypted is a good setting for this.
–          Click Erase.
–          Then you'll be prompted to choose a password, which you'll need to enter every time to plug the USB drive in its port in order to access the files.
–          Click Erase again.
–          Process is complete!
USB Flash Drive Encryption with DMG
–          Insert USB flash drive.
–          Open Disk Utility under Utilities in Applications folder.
–          Highlight the flash drive in the left column.
–          Click on the Erase tab.
–          Select the format Mac OS Extended with Journaled.
–          Under the File tab, select New, then Blank Disc Image.
–          Name your file and when it shows the Where option for Save As, choose your USB drive.
–          For the options, make your Size- Custom, Format- Extended, Encryption- depends on your security needs, Partition- Single Partition, Image Format – Read and Write, so that the disk image can be editable.
–          Click create.
–          Type in and verify your password.
–          Image will be automatically mounted and appear as a .dmg extension.
–          Double click to access with password.
Each method has their advantages.  With the first option, your whole USB flash drive is protected, with the second, only the files you've created on your disk image, but you have a wider range of compatibility.
Which Mac USB flash drive encryption method would you use?  Or do you have another method that maybe works better?  Share with us below!