Creative Custom USB Flash Drive Inspiration: The Red Cross Bloodrive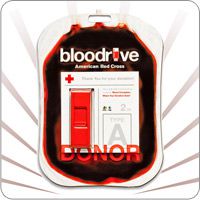 The potential for impact of custom USB flash drives is what you make of it.  Some marketing campaigns and giveaways are content with distributing plain flash drives with a simple logo.  However, we can learn from the creativity of other promotional campaigns that exceed expectations.  We happened to stumble on creative designer Robert Williams' American Red Cross Bloodrive, which addresses every aspect of a successful USB promotion:  an attractive flash drives by Premium USB, exciting packaging and preloaded USB data.
We'll break down each of these elements to show you what makes the Bloodrive USB effective and why it gives users incentive to act on the message.
Attractive custom USB flash drive: A flash drive is a valued, useful commodity so the prospect of receiving one helps generate brand interest.  Williams' makes a good color choice in red—the color associated with the American Red Cross as well as blood itself.  For users, a bright red flash drive is easy to spot in a desk drawer or laptop bag.  Additionally, it's a capless USB drive, which means that people don't have to worry about losing the cap or protecting the connector with one.
Exciting packaging: On his site Williams states, "The process of giving blood is an uncomfortable procedure that generally yields low turn outs. This is especially true for college students because they are typically low on time and energy. We asked ourselves how do you use packaging to grab a student's attention and compel them to donate blood?"
The USB case cleverly plays off the concept of donor blood bags and the image is carried through the back of the packaging as well.  The sight of blood is powerful imagery that helps to evoke reaction and attention from potential donors.  The USB package not only serves to protect the drive and state device specifications, but it also works as its own unique thank you card to donors.
USB data loading: Each 2GB USB Red Cross Bloodrive is packed with a promotional video that shows users the path their blood takes once they donate it.  The video is seen by a captive audience that is already using the promotional flash drive.  The video is also able to show users firsthand the value of donating blood and the difference each donor makes.  As a result, the people who receive the USB and watch the video may be more likely to be repeat donors in the future.
How can we help you make the most creative custom USB flash drive?  Contact us or let us know in the comment section.