What Happened to USB Flash Drive Movie Kiosks?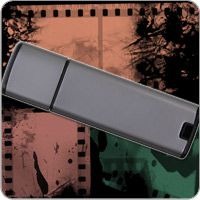 They're like Redbox—same home entertainment market potential—minus the popularity and millions of dollars in profits.  I'm talking about flash drive kiosks, where consumers can instantly download movies, music or games to their custom USB drives from convenient locations like corner gas stations or grocery stores.  The problem is, word on USB kiosk implementation has been rather quiet in recent months.  From as far back as 2008 to the beginning of this year, flash drive kiosks from various ventures had garnered some good online buzz.  However, we have yet to see movie rentals make the switch to USB.  What's more is there is every reason to turn to flash drives in this capacity.  Here's why:
–     An increasing number of HDTVs are being outfitted with USB ports to help provide this kind of instant home entertainment viewing.
–     Fewer optical drives are appearing in laptops and netbooks to play your personal DVDs and rentals.  At the same time, all of this hardware is equipped with a USB interface.
–     Greater inventory.  Because the kiosks don't need to store physical copies like with DVD rentals, your USB flash drive movies are always in stock.  As a result, these digital downloads can offer thousands of movie titles as opposed to just a few dozen movie titles.
A few companies have created their own USB flash drive kiosk concept, but have faltered with a rocky start or lack of angel investors.  For example, MOD Systems had created digital download kiosks via SD card or USB for movies, shows and branding efforts.  However, the company took a downward spiral when CEO Mark Phillips was accused of and subsequently sentenced for bilking big investors.
Flix on Stix is a flash drive kiosk company still in the money raising stage.  The company's concept uses touchscreen kiosks for title browsing, purchasing and downloading.  If you take a quick look at the company's site, it still appears to be in a stage of construction—the copyright has yet to be updated since 2009 and "Coming Soon" banners dot a few of the site's category pages.
However, after a quick call to Flix on Stix's Bryan Ross, he assured me that the company is still actively working through beta to full deployment.  Ross says Flix is using a variety of focus groups local to the company's California office to tweak and refine the services as they go.  Approximately 500 kiosks are slated to debut later this year.  According to Ross, a major film studio has already committed to Flix on Stix distribution efforts, although he declined to comment on which one.
Digiboo is another USB movie download kiosk startup pioneered by studio execs and backed with angel funding.  Previous online reports have even linked award-winning actor Morgan Freeman as well as a Fujitsu group company with backing this digital distribution endeavor.  However, new information on a potential market release is rather limited.  Premium USB placed an inquiry with Digiboo CEO Richard Cohen.  At time of publication, we have not yet heard a response from Cohen, but will provide you with the latest information of Digiboo's status as we receive it.
While digital distribution startups like USB flash drive kiosks are bound to take time to execute successfully, I'm truly surprised they have yet to dominate our retail corners.  With encryption technology to protect consumers, the remainder of the concept seems foolproof in its selection, speed, ease of use and portability.  What could be the holdup?  Is there still a disconnect between the USB interface and the majority of our home entertainment systems?  Is it a lack of blessings from studios?  Or is the Goliath Redbox standing in the way?
Weigh in with your thoughts.  What could make flash drive movie kiosks a failure or success?
Update 8/16/11:
Digiboo announces it has received multi-million dollar funding from Norby Corporation, which will subsequently allow the company to roll out USB movie kiosks sooner than it had anticipated.  Digiboo plans to install approximately 7,000 movie kiosks nationwide in the next three years.
According to Aleksandr Shapiro, President of Norby, "We see great global opportunities and potential in Digiboo's penetration of the digital download entertainment market with its unique kiosks and target demographics. This investment is evidence of our confidence in Digiboo's bright future prospects and its experienced management team already in place."
Digiboo plans on announcing more details soon, and Premium USB will keep you posted with all of the latest.