Isostick Flash Drive Reinvents OS Recovery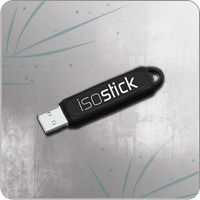 Replacing optical drives and discs just got easier for computer users thanks to one unique USB drive called the Isostick.  Created by tech startup Elegant Invention and funded through Kickstarter, the Isostick is a USB flash drive that also mimics an optical drive as far as your system is concerned.
What this means is that it's intended to be a bootable device in that it can store multiple CD/DVD images (ISO images) for the purpose of wiping and reinstalling your operating system.  The uncompressed ISO images are exact digital copies of your system.
Even the BIOS will recognize the optical drive as part of the USB.  There is no driver installation needed in order to work around software that looks for an optical driver.  The stick is formatted to any file system and is readable from FAT32.  It also maintains the primary function of a flash drive by allowing for your file storage.
This bootable USB stick boasts a feature called isosel that allows you to view your list of multiple ISO files to select the one you need while preventing potential issues of booting from particular discs.  With a read-only switch option, the Isostick outshines software alternatives to boost protection from malware.
A custom flash drive like the Isostick is a valuable tool that cuts out the grunt work of creating your own bootable flash drive.  It streamlines the portability of IT fix-it projects for technicians, business professionals and computer enthusiasts.  It eliminates the need to carry around multiple discs of ISO images as well as an external CD/DVD drive for newer generation laptop or netbook models not already equipped with one.
The Isostick however will cost you more than your average retail USB drive.  Since the enterprise is still in its early stages, an Isostick will cost more than $100 for 8GB.  As more funding develops and demand rises, that price is likely to decrease.  The project currently has over 330 financial backers and more than $50,000 in funding—which is double the pledged goal.
For USB fanatics, consumers and industry insiders alike, it's vital to support flash drive innovation because it invariably affects the future products that we use, which are inspired from concepts like the Isostick.  This USB idea might prove that we are merely scraping the surface of USB flash drive potential.
In your opinion, is the Isostick a winning idea?