Ford Cars Making the Switch from CD to USB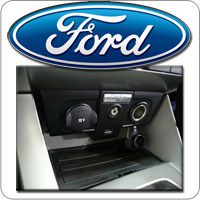 Cassette players, pay phones, film cameras, floppy disks.  Now Ford Motor Company is paving the way for CD players to join the ranks of these obsolete technologies.  The American automaker announced that it will officially start phasing out disc players in their car models in favor of a digital entertainment system complete with a USB interface.  The transition will begin in Ford's European cars starting with the Ford Focus and an expected 2 million plus cars equipped with digital connectivity by 2015.
The system, called SYNC with MyFord Touch, accomplishes what a CD player never could.  Thanks to multiple USB inputs, users can store thousands of songs via USB flash drive, portable hard drive, iPod or MP3 player compared to one disc's approximately eight to fourteen tracks.  The MyFord Touch USB system can be transformed into a wireless hotspot for up to five USB devices.  SD and RCA inputs also make an appearance on the new entertainment dashboard.  SYNC will feature intuitive music searching through voice commands and steering wheel controls.
According to Ford Motor exec Sheryl Connelly, "In-car entertainment technology is moving digital more rapidly than almost any other element of the vehicle experience."
CD players are not phasing out overnight, in order to still cater to what's left of the current disc demand.  However, the automaker predicts a slow yet drastic change to USB drives is imminent.  The shift to USB implementation in cars is a natural one.  With their flexible data capacities, flash drives are vital to everyday digital storage demands as well as for their instant access and portability between computer systems.  To transfer your entire music library from your custom USB drive to your car makes long road trips and rush hour traffic jams more bearable.
By utilizing SYNC, it's as if you're plugging in your USB flash drive into your desktop or laptop, except now it's in your dashboard.  Now, more than ever, flash drives are relevant to our digital storage needs, easily evolving and adapting to the latest technology innovations.  It's exciting to think where USB can take us next.
Are you ready for USB flash drives and digital entertainment to take over your ride?  Talk to us about car CD players versus USB entertainment systems below.