Flash Drives Go For a Ride with Car USB Audio Systems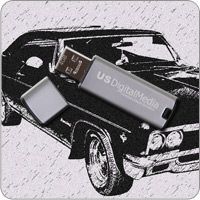 Today it's indisputable that USB technology and flash drives are going along for the ride when it comes to rapidly evolving, high-tech car entertainment.  As we've previously reported, USB ports come not only equipped in custom stereo systems or FM transmitters, but are now built in thanks to "infotainment" systems like the Ford SYNC.  While we've chronicled the American automaker's switch from CD to USB and detailed the system specs, we thought we'd share some of the competition of other USB car systems out there for any drivers who have cars pre-2008.  One thing is certain, prospective car owners and shoppers have a lot to be excited about.  Never has the USB flash drive been more relevant.
The Chevrolet MyLink infotainment system utilizes hands-free control so that drivers can plug in their USB flash drive to access their multimedia files with Gracenote used to quickly help identify songs, genres, etc. The MyLink USB system is appearing in the 2012 Chevy Volt, 2012 Chevy Equinox and 2013 Chevy Malibu.
Sharing the same GM origins as Chevy vehicles, Buick's Intellilink system has striking similarities to MyLink in terms of features.  Intellilink uses both Bluetooth and a USB connection to sync with a user's smartphone, custom flash drive, iPod or other MP3 player.  The USB audio interface allows you to visualize the contents of your flash drive, phone or radio thanks to an intuitive 7 to 8 inch color screen built into the dashboard.
Kia's UVO in-car entertainment system—featured on Sorento and Optima models—is reminiscent of Ford's SYNC system since it was also developed by Microsoft.  Boasting a touchscreen interface, the Kia UVO is voice activated to control a driver's media needs.  It employs a USB connection to listen to your flash drive's contents.  Once the storage device is connected, the music can be controlled from the steering wheel or dashboard and organized by category.  UVO will even copy your USB music to the system's jukebox (hard drive).
The Toyota Entune is a system that was introduced at CES 2011 and is poised for some of the company's 2012, 2013 models.  Entune connects drivers to mobile apps (reviews, reservations, gas prices, etc.), Bluetooth and USB storage devices like flash drives.  Moreover it provides easy firmware upgrades wirelessly.  Since the Entune is newer to the infotainment group, more information should become available as it debuts on car models.
While these innovations (including the Ford SYNC), are some of the bigger USB systems dominating the market, additional automakers offer the ability to plug your flash drive into a USB audio interface:  Hyundai, Honda, BMW, Jeep, Mercedes and more.  Many of these USB music options feature center consoles to hold storage devices and insert flash drives that can be controlled through interface dials or the steering wheel.
Tell us what you think about the marriage of custom flash drives and car stereos.  Do you use any of these systems currently?