Let's Talk USB Flash Drive Diagnostic Tools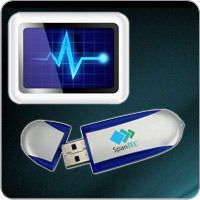 We tend to focus a majority of our attention on the storage capabilities of our custom USB flash drives.  We forget that having a flash drive in our back pocket is equivalent to having a virtual tool belt poised to fix our computer system at a moment's notice.  USB flash drive diagnostics can be performed thanks to portable apps, which do not require system installation.
While bootable CDs can solve your problem, there are fewer optical drives popping up in our hardware, whereas a USB interface is thriving.  A CD as a repair tool also can hold you back in that the data copying process is more time consuming and complex.
What's great about a diagnostic flash drive is that you can take it anywhere with you.  Instead of attempting a software download after you have system problems (which may be impossible depending on your PC issue) a proactive approach to creating a USB flash drive for repair and recovery saves you time in the maintenance process.  As a result, having a plan of action in case of computer emergencies and file crises is essential.
So, what are some flash drive utilities you can store in your digital arsenal?
Malware protection. You can install a free version of the SUPERAntiSpyware Portable Scanner, which is updated almost daily for optimum system protection.  It can scan and remove more than a million spyware infections on your system.  It employs a random file name once downloaded so that the malware cannot block it.
If you need a portable flash drive app to kill malware processes so that your anti-malware program can function properly, consider RKill.  Since it stops malware processes, eliminates incorrect files with a new registry file, adjusts proxy settings and policies, it does not require a reboot.  Instead, you will be able to scan with the malware removal program that you already have.
Overall maintenance. With hundreds of thousands of downloads weekly, a program like Glary Utilities is a comprehensive tool to help tidy up the system messes that accumulate and cause user hiccups in speed and performance.  After just one click, you can scan for multiple issues including:  cleaning up invalid shortcuts and startup entries, removing spyware, temporary files and salvaging disk space.  You can also opt to remove online activity and use its virtual file shredding.
Lost and found. Crashes and bugs can leave your files in ruins.  By running the Recuva diagnostic app from your flash drive, you can get back deleted files from multiple locations—your recycle bin, your hard drive, your MP3 player and more.  This Piriform software finds files that can be recovered swiftly and efficiently thanks to user-friendly capabilities to restore files instantly to the hard drive while color coding their retrievable status.
Which diagnostic USB flash drive tools do you use?  What do you like best about these types of portable apps?  Talk to us below.