"This Device Can Perform Faster" USB 3.0 Pop-up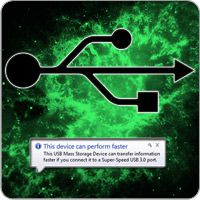 So, you're ready to dive into USB 3.0 with the promise of faster data transfers for your SuperSpeed flash drives, hard drives and other peripherals.  However, you've hit a roadblock that can be perplexing to even frequent computer users.  When you plug in your device, an annoying popup appears in the system tray:
"This USB device can transfer information faster if you connect it to a Super-Speed USB 3.0 port."
This suggests that your device is faster than your system can handle.  As far as you can tell, everything is how it should be—your drive or cable is already plugged into a USB 3.0 port.  While there are various causes for this error message, there are fortunately an equal number of solutions.
Temperamental connections and devices. We've all dealt with computers and gadgets with delicate sensibilities—one minute they work, the next minute they don't.  As a result, some basic resets could be enough to do the trick.  First, be sure that you are using the proper USB 3.0 cables.  Next, try disconnecting and reconnecting them.  Since USB 3.0 uses additional contacts, it's important to achieve a tight connection.
If you are plugged into your front ports, try inserting your cable or device into a rear port.  The port connections in the back are physically closer to the motherboard so the data is faster since it doesn't have to travel as far through the wire connections.  Also try shutting down and restarting your system to ensure any updates to your computer take effect.
Drivers. USB drivers are essential to your system.  Think of them as language interpreters.  They assist in the communication between the host and device by detecting data and system application needs.  As a result, when your system goes through changes or you get a new device, drivers may need to be updated or installed in the system's registry.  This can be especially true for the new USB 3.0 interface.  CNET offers an excellent resource for free drivers.  By installing the proper drivers and restarting your computer, it may be just the link you need to get your USB 3.0 flash drive or other peripherals to optimum speed.
Overclocking. Computer enthusiasts out there use overclocking techniques in components like motherboards, graphics cards and processors to reach greater speeds and performance.  In this case, the DRAM for the motherboard that you set to a certain frequency for performance may be incompatible with your port or USB 3.0 card because it affects the PCI bus.  By reducing the speed of your front side bus (FSB), 3.0 can operate as intended.
Have you had trouble getting your USB 3.0 device to work at SuperSpeed rates?  Which troubleshooting method did you try?  Was it able to solve your problem?  Share your experience below.