Department of Defense Introduces Linux USB Flash Drive Solution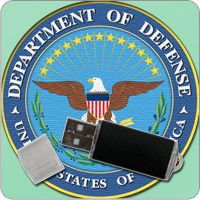 USB flash drives and the government have had a complicated relationship.  While the Pentagon banned them from facilities in an attempt to combat data leaks, flash drives are now playing a crucial role in aiding the Department of Defense.  The government is confronted with growing security concerns over online accounts and departments being hacked as equally as they are being faced with the reality that government and corporate telecommuters must access these networks from a variety of remote locations.  The solution—a Lightweight Portable Security (LPS) Linux distribution on USB flash drives.
Linux has always been synonymous with a customized system experience, tailored to the most specific demands in a range of industries. The specialty USB software is featured in three versions and works directly from a bootable flash drive without the need for installation or admin rights.  It only executes in RAM.  Developed by the Software Protection Initiative, the first LPS flash drive is web based, the second tier adds Open Office and Adobe Reader while the Remote Access version is designed to get in private networks.
The Linux flash drive software also features a Firefox Sync browser, Java, Encryption Wizard as well as CAC and PIV support.  When the custom USB drive is inserted into a home or remote system, it is transformed into a trusted source.  And like any portable app, it doesn't leave a trace on the system.  By rebooting between sessions, the LPS flash drives will remove any malware.  What's more is that you can take advantage of this level of digital protection via free USB software download of a mere 135MB.
It remains to be seen whether a reboot is enough to keep all malware threats at bay.  After all, there are growing security concerns when it comes to hardware as well.  However, any dose of digital protection is better than none at all.  This software helps to show that in the battle against security breaches, USB flash drives are equipped to be some of our best allies.
Would the DoD's flash drive security solution work for your telecommuting needs?  Tell us why or why not.