Nintendo Wii U: A Look at the Console's USB Capabilities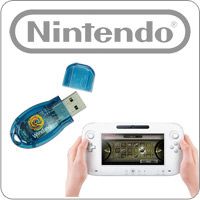 The gaming world is whirring with chatter this month over the new features divulged about the Nintendo Wii U, an eighth generation console and the sixth in succession for home entertainment for the game giant.  The Wii U will be a first for the company in creating 1080p HD graphics as well as supporting 1080i.  The system's crowning glory is a controller that boasts a touchscreen so that players can play with or without the television.  That means Mom and Dad can watch their movie on the big living room TV while Son or Daughter can still game in the same room.
Despite speculation for optical media support, Nintendo's president recently announced that the console will not support DVD or Blu-ray playback, but is equipped with a drive for a similar 25GB proprietary disc.
What the Nintendo Wii U does in fact feature without hesitation is four USB 2.0 ports—two in the front of the console and the others in back.  The interface implementation suggests that USB flash drives are positioned to continue their vital role in the latest generations of gaming systems.
Game console flash drives not only serve to store your latest round of Zelda or Super Mario and update firmware to keep your system running smoothly.  These storage devices also act as a vehicle that allows them to work beyond a gaming capacity.  With a Nintendo Wii U flash drive, you can bring pictures, video and music to life via a unique controller that has a vivid HD display, speakers, microphone, button controls and touch command capabilities.
Since USB technology is synonymous with versatility, the four ports can also distribute other equally advantageous storage options for players.  For example, if a flash drive does not have enough gigs to handle all of your game and other data needs, you can simply plug in a custom USB hard drive for memory expansion.
One aspect that's lacking in Nintendo Wii U's USB interface capabilities is the use of SuperSpeed.  It's a bit of a head-scratcher to explain the absence of USB 3.0 considering that the world's premium chipmakers have been poised for a mainstream response by 2012, the same time the Wii U hits the market.  USB 3.0 seems like it would be a perfect fit to complement the system's high-def data demands.
Thoughts?  Will you be in line for the Nintendo Wii U next year?  What do you think of its flash drive capabilities?  Do you think it should have been upgraded to include USB 3.0?