Check Out 8 Free USB Flash Drive Games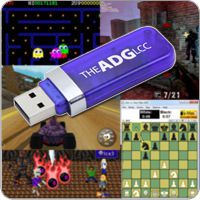 We talk so much about the multitude of professional storage uses for your USB flash drives—multimedia presentations, PDFs, financial records, marketing materials, homework—the list goes on.  Today we thought we'd have a little fun.  After all, custom USB drives make for nice high-tech toys, especially when you want to take a computer game on the go.  By downloading a free portable game onto your storage device that can run straight from the drive, you can bypass complex installation and save money.  Plus, your data and game settings travel with you and no trace of information is left behind.
We've compiled a varied list of 8 free flash drive games to suit a variety of gaming preferences.  While you won't find something elaborate like Halo or L.A. Noire here, you'll still be able to transform a gadget meant for business into something a bit more exciting.
It's the super popular puzzle game you find in the back of the newspaper, but this portable version gives you more than just a few puzzles to work with.  The free Sudoku app features four skill levels, a variety of solution options and a customizable interface for your Sudoku grid.
It addresses your need for virtual speed.  For a flash drive game, it gives the driver 20 scenic views of pyramids, beaches, castles and more while trying to dodge obstacles from opponents.  The free USB app also allows for you to race against other karts and players.
Monster 2
This game has an old-school feel thanks to its graphics and role-play game scenarios.  Players go up against zombies, goblins, leeches, magic trees, fireballs and more.
Created by PacMan mastermind Neil Roy, this updated version has the classic functionality of the original, but with a new twist.  This free game is not automatically portable, but can be made for use with your flash drive in just a few steps.  After download, extract setup.exe, run it and then copy C:\Program Files\Deluxe Pacman to your flash drive.  Then launch the .exe file from the Deluxe PacMan folder.
This copycat portable Mario Brothers app takes you back to retro Mario, but with improved graphics, function and levels.
PokerTH Portable
Get Texas Hold-Em on the go with this USB poker app that lets you connect with up to ten players.  With an easy to navigate interface, it provides a great customized poker experience thanks to unique avatars and cards.
AssaultCube
For those who like action and the thrill of multiplayer shooter chases, AssaultCube is a free USB app with 12 game modes that boast an arcade feel.  Players don't have to deal with a lot of lag time and the game only takes up a mere 40MB on your device.  It's also versatile for many systems and those who don't have a lot of bandwidth to use.
No matter which version of chess you like, this free chess app probably has it.  The software allows you to connect with other online chess servers and will help you analyze games including Crafty and GNU Chess.
What's your favorite flash drive game?  If we haven't included it, tell us about it!