USB Flash Drive Car Use: Digital Entertainment on the Road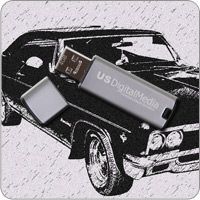 Chances are if you have not purchased a new car, a new car stereo or FM transmitter in the past 4 or 5 years, you may be largely unaware of the use of flash drive car stereos and adapters.  Marrying two symbols of portability—a USB drive's storage and a car's mobility—is a genius combination.  There are destined to be times when you wish you could access the music or other audio stored on your USB flash drive on a long road trip or during the lulls of rush hour traffic.  To control your media library on the go with the plug and play function of a flash drive can only help to enhance your travel experience.
Luckily, there is a diverse range of solutions for USB car capabilities so that older vehicle models can have just as much fun as newer high tech ones.
USB Car Solution 1: The Ford SYNC is an entertainment and phone system developed by the American auto making giant for a selection of its vehicles.  Among its advanced calling and voice activated features and navigation, it offers a cool approach to USB technology.  You can simply plug in your flash drive to the SYNC USB port and the system takes care of organizing and playing from your media library.  What's more is that the SYNC's built-in USB port will allow you to charge your media players during your trips.
USB Car Solution 2: All of the top name brand car stereos by Sony, Pioneer, JVC, Kenwood and others offer USB flash player capabilities.  They're priced anywhere between $60 to $300 plus whatever labor you use for installation.  These flash drive car stereos use a front facing USB port.  Once you plug in your USB flash drive, these stereo systems give you simple, intuitive access to your MP3 and WAV music files.  Users like the fact that you don't have to be distracted with handling a portable media player while driving.
USB Car Solution 3: This option employs the use of a feature that decades of cars have been outfitted with:  the cigarette lighter.  These flash drive car adapters are also known as USB FM transmitters.  Ranging anywhere from $5 to $50, these devices use one end that plugs into the lighter while the other end features a USB port.  Once you insert your custom flash drive, you tune it to one of the preset radio channels to listen to your music.  Some USB FM car transmitters have an interface of buttons that allow you to play, pause and skip through tracks.  The best thing is that there's nothing to install with these devices.
Can you think of other flash drive car solutions?  How do you use a USB drive in your vehicle?