USB Flash Drive as PC Lock Thanks to Free Software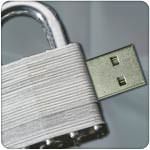 USB ports are the easiest and quickest gateways to access your computer system's data. While they help streamline our day to day activities, they do pose some inherent risks. USB ports make it easy for anyone to insert a flash drive and copy private information without a trace. Companies struggle with using flash drives and USB ports for that very reason, and other businesses have paid for the consequences of breached data. Luckily, there is an effective solution for computer users that takes the same storage device that can leak information and transform it into a defensive tool to protect your PC.
Predator is a free application that turns your system and flash drive into a lock and key. Once your inserted USB drive is removed from the port, your system is locked. Your peripherals like the mouse, monitor and keyboard are disabled along with the Windows Task Manager. When you plug your USB drive back in, all functionality is restored at a faster rate than the normal Windows login method.
If you lose track of your flash drive, the Predator software equips you with a backup password that you receive during configuration. An unwanted user also cannot take your flash drive and duplicate it because the application changes the security codes often. One USB flash drive can be used to protect multiple computers while also enabling you to use the flash drive as normal for storage of documents, pictures and other files.
With Predator USB flash drive capabilities, alerts can be sent via email or SMS and attempted breaches are logged by the software. Predator also prevents CD autorun, so your optical media drive is safeguarded as well. When an intruder does in fact try to access your computer without your flash drive, a password prompt gives them only 20 seconds to enter the right login. If the incorrect password is entered, Predator sounds an audible alarm while preventing access.
It requires a fairly simple setup. Once the program launches after installation, a window pops open that will also prompt you to create a password. It will also ask for you to plug in your flash drive. Under Preferences, configure your settings and select Create a Key. Once you click OK, you're ready to operate your new digital lock and key.  Predator is compatible with Windows XP, Vista and 7.
Have you ever tried Predator or another solution in terms of a flash drive as a PC lock? How did it work?
We give a thumbs up to all our readers, so remember to "Like" us on Facebook and follow us on Twitter to keep up with a variety of USB and flash drive news!