HP Passes on Thunderbolt in Favor of USB 3.0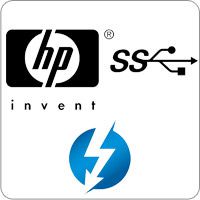 Hewlett-Packard has drawn a line in the sand when it comes to interface loyalties:  HP has chosen USB 3.0 for their latest desktop computers over Intel's Thunderbolt connection.  This development comes on the heels of HP's announcement to add three new lines of desktop PCs, one of which will have USB 3.0 ports.
HP marketing exec Xavier Lauwaert told PC World that the company is not sold by Thunderbolt's features that include 10 gigabits per second in data transfers and quadruple the throughput of SuperSpeed with DisplayPort and PCI Express protocols.
"On the PC side, everybody seems to be content with the expansion of USB 3.0. Do we need to go into more fancy solutions? Not convinced yet."
Thunderbolt and USB are family so to speak, both developed by Intel.  In the past few years, next generation 3.0 had been put on the backburner in order to perfect Thunderbolt, which has found its biggest supporter in Apple.
On one hand, you could argue that companies like Hewlett-Packard are delaying the mainstream use of this faster technology.  However you could also point out that Apple doesn't always get everything right (FireWire, anyone?).  At this time, Thunderbolt would be harder and more expensive to implement to a wider range of consumers compared to USB 3.0.  Only a small handful of devices, specifically Apple ones, currently provide Thunderbolt.  It remains to be seen whether or not other PC leaning companies will follow HP's cue, or opt to follow companies like Sony, Seagate and LaCie in developing Thunderbolt hardware and devices.
For HP, it might all come down to dollar signs.  One could suppose that there may currently be sticky negotiations on licensing fees or the fact that limited adoption of this USB counterpart make it difficult to invest in.  Despite that line in the sand, Intel still affirms that the two data connections complement each other.
Consequently, no matter how you may feel about Thunderbolt or its viability as the interconnect of the future; the present is where USB 3.0 will shine.  Let us not forget that HP's USB 3.0 additions help to further solidify the technology's importance and function for the everyday consumer.
Every day we're hearing about manufacturers creating new styles of custom USB 3.0 flash drives, USB 3.0 hard drives, as well as 3.0 adapters and motherboards.  As these devices grow in popularity and presence on the market, Premium USB will be providing USB 3.0 drives in the future at a price that's affordable to you.
What do you make of HP's USB 3.0 announcement?