Custom Printed Flash Drives vs. Custom Shaped Flash Drives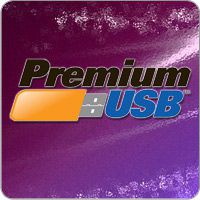 There are two different paths you can choose from when creating a custom USB drives.  One is a custom printed flash drive; the other option, a custom shaped flash drive.  While they can be equally effective, one method will likely trump the other when your purpose for using the drive is taken into consideration.  Premium USB is here to help you make a decision based on what suits you best.
What are Custom Printed Flash Drives?
Custom printed USB drives use various methods of printing or engraving to decorate the body of a blank flash drive.  Embossing is another technique used.  Logos, names and artwork are just some of your personalization options.  Your choice for printing as well as the appearance of text and design primarily hinges on the material of your flash drive.
Which Print Option goes with Which Custom USB Drive?
–     Laser engraving etches a permanent design onto the body of the drive.  It is suited for wood, bamboo and metal USB flash drives.
–     Silkscreen printing layers inks color by color on your flash drive.  This works great on plastic USB drives.
–     Embossing imprints your personalized design through the use of pressurized plates and heat.  Foil can be added to these plates for a metallic effect on your drive.  Leather USB drives are ideal for embossing.
–     Epoxy domes are created by printing a detailed color design on a plastic or paper surface and adding a top coat of clear resin to boost the visibility.  Epoxy dome flash drives are typically crafted from plastic.
When to Use Custom Printed USBs
Custom printing is a chameleon that proves versatility in any promotional effort.  These flash drives look just as good in a corporate environment as they do in a relaxed, creative one.  If you're limited by your budget or your deadline, you'll receive custom printed flash drives faster than molded drives.
What are Custom Shaped USB Flash Drives?
Unique storage at its best, custom shaped USBs are molded or cut from any variety of materials.  The USB body with its components and connector are inserted into the designated shape.  Custom shaped USB drives may choose to use the design to convey a business or brand, or a customer can opt to have printing of a logo or artwork as well to enhance the appearance of the storage device.
Steps to Create a Custom Shaped Flash Drive
–     Come up with a concept.  Your imagination is your only limit.  You could transform it into anything from an animal or person to an accessory or product.  It's highly suggested to use a shape that will have some relation to the brand or product you're promoting.  Also consider what kind of features and mechanics you may want to include in the design.
–     Submit your idea to Premium USB.  Our design team will provide the logistics to make your design a reality with a digitally illustrated draft complete with dimensions.
–     Once the architecture and design of the custom shaped USB has been finalized between you and our design team, we take it to be manufactured.  The number of die cast molds used depends on the material used as well as the number of design components it requires.
When to Use a Custom Shaped USB Drive
Custom shaped USB drives are ideal for when you want to stand out from the crowd.  If you want to get people talking about the design and shape, the novelty of these drives will do the trick.  Custom shapes may not be suited to all environments.  A more corporate drive with a serious purpose may require a basic shape with custom printing.  However, tradeshows and creative professionals can have a lot of fun with them!  If you choose the custom shape route, your budget and deadline will need to accommodate it.  However, between the digital blueprint and approval process, Premium USB will take the time to do it right!
Custom print versus custom shape USB drives—which one do you prefer and why?