Building the Perfect USB Flash Drive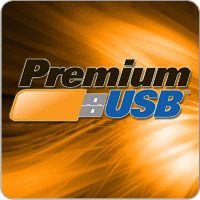 In our specialized field of technology products, Premium USB comes across some of the most bizarre, outlandish flash drives and other peripheral gadgets you could ever imagine.  While many are enough to make you cringe (taxidermied mouse flash drive or air-conditioned USB tie anyone?) there are several bright spots in custom USB drives development that truly push the bounds of innovation and function.
All of the flash drives currently out on the market cater to one or two special features, meaning that every user looks for a different storage device to accommodate their needs.  One-size-fits-all doesn't apply here.  But we entertained the thought—what if it did?  If we could build the perfect flash drive based on existing technology, what would it have?  What would it look like?  It would have to be something that has equal appeal to both James Bond and Joe Six-Pack.  So we let our imaginations run a little wild as we virtually build the perfect custom USB drive.
What the Perfect Flash Drive Would Look Like
–   It would have a sturdy metal alloy casing that could withstand any impact or climate conditions.  This USB drive could be shot out of a cannon and left on the North Pole and still be able to plug-and-play.  You would never have to worry about physically damaging it or storing it.
–   The perfect USB drive would also be a stylish accessory.  It would look good enough to wear be it through cufflinks, a necklace, watch or keychain.  This feature would help it blend into any situation.
–   Storage would be the perfect flash drive's primary function, but it would be the ultimate multi-tasker with other capabilities through its mechanical design.  That means it would be equipped with a laser pointer, pen or nail file and even double as a bottle or cork opener.  For younger users, it would transform into an action figure for entertainment.
–   It would be small yet easy to keep track of.  After all, smaller, thinner technology products are always coveted.
–   This flash drive would smell delicious.  (Yes, there are in fact flash drives out there on the market that have an aroma).
The Specifications of the Perfect Custom USB Flash Drive
–   It would boast the fastest read and write data transfer capabilities with the help of USB 3.0 (which has ten times the speed of USB 2.0 drives and offers backward compatibility).
–   It would have the largest storage capacity offered on the market today (256GB).  If flash drives in the terabyte realm debut, our perfect flash drive would offer that instead.   These capacities are more than enough to hold the data that would fill most libraries.
–   Top-notch AES encryption would be another feature to safeguard against unwanted entry.
–   The perfect flash drive would still maintain intuitive instruction and function so that the average user is as comfortable as the advanced computer geek.
–   Virus protection software would be a given so that you do not have to worry about where you plugged it in.
–   It would also act as a media streamer connecting your computer data to playback devices like your TV, disc player or game console.
Use your creativity.  What other features can you dream up for the perfect USB flash drive?