6 Ways to Prevent Viruses on Flash Drives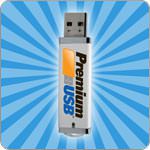 Every time you plug your flash drive into an unknown port, you're taking a risk because a USB drive can be a hotbed for not only attracting viruses, but also spreading them. First, you'll see the telltale signs—missing files, moved files, slow data transfer speeds, increased system hiccups or crashes, inoperable disk drives.
The good news is that if you're proactive in the easy maintenance and care of your USB flash drive, malware can be avoided altogether. Below, Premium USB has compiled some basic tips and tricks you can use to prevent viruses on a flash drive.
–       Install an antivirus portable app like ClamWin, which is made for protecting USB drives. After a simple download and installation, the free software needs to be scanned manually. Nonetheless, ClamWin has a high success rate of finding malware and getting rid of it.
–       As a result, always run your USB virus scanner program prior to the transfer of files, since malware rides along with data.
–       If you suspect that the computer you're using may be infected, run the system's virus scanner as well before you insert the flash drive.
–       Viruses lurk in the hidden files of directories. If you bypass transferring entire directories and avoid saving exe or zip files, you may be able to steer clear of infection. Instead of using a bunch of files all at once, transfer files individually, making a conscious effort to know each file that you are working with before opening. That way, a virus file does not slip by through the cracks.
–       Formatting the flash drive will get rid of any hidden USB viruses because it wipes the device clean of everything. The disadvantage is that you lose the files you had on the drive.
–       Write protect your flash drive. Many USB devices these days boast this feature through either a physical switch or utility component. Write protection can also be downloaded through free software applications like USB Write Protect. With these functions, you can control when and how a flash drive is accessed. You can prevent any writes from being added, which effectively blocks viruses as well.
What steps do you take to prevent a virus on USB flash drives? Tell us your tricks!