Tough Enough? USB Flash Drive Durability Test (Video)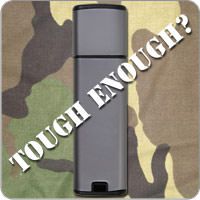 Dropping, dunking, crushing, searing, smashing—we're not talking about an action blockbuster or match in a wrestling ring.  We're talking about a series of tests that seven name brand USB flash drives faced all in the name of durability.  What's more is that we caught it on tape for your enjoyment!
Premium USB's inspiration was sparked by the Consumer Electronics Show (CES) 2011 back in January.  Nearly every USB flash drive manufacturer we came in contact with was promoting how rugged and sturdy their products were.
"It can climb Mount Everest!!!"
"This flash drive works 10,000 leagues under the sea!!!"
Well maybe not quite so extreme, but nonetheless their claims were staggering enough to make you wonder.  We figured what better way to prove them right or wrong than with our own tests?  So, we had a little bit of fun.
You'll see flash drives by SanDisk, OCZ, ADATA, Patriot, LaCie, Corsair and Tac.  We conducted a drop test, water test, pressure tests and extreme temperature tests.  Which one(s) came out on top?  Check it out below!