Save Emails to USB Flash Drive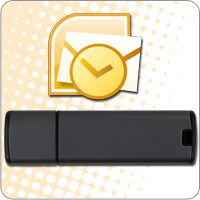 Email is without a doubt the primary form of communication in the business world, no matter what kind of industry that you work in. Some of us get hundreds to thousands of emails daily and weekly. There are simply not enough hours in the day to go through all of them within a short amount of time. So what's a busy professional to do? Why not save emails to a flash drive?
When you download your inbox to a USB flash drive, it benefits you in a number of ways:
1.   It provides a means of storage for vital communication, file attachments and other documents. The importance of tracking what you say and who you say it to can't be stressed enough.
2.   Copying emails to your flash drive frees up needed room in your inbox for the most recent emails and therefore in many cases, allows your Microsoft Outlook (used in a majority of business environments) to operate more efficiently.
3.   You can access your email offline without the need for an Internet connection.
4.   Saving emails from your inbox to a flash drive acts as a valuable form of organization that allows you to be thorough about every message that you are sent, no matter where you are.
There are different approaches you can take when moving emails to a USB drive. For Microsoft Outlook, it can depend on which format you want to save your emails in. Think about whether you need just the text of the email or if you'd prefer that the message look exactly like it does in your Outlook inbox.
In Outlook, one option is to go to the file menu and click on the "Import/Export" option and click on "Export to a File." Next, you'll click on the .pst option, then select which folders you want to export. Subsequently, go to "Browse", "Save Exported File As". With your USB flash drive plugged in, select it as your saving location.
If you work off of an account like Yahoo or Gmail (or again, even with your Outlook) you can also open up a Word document and then simultaneously open your email messages. Hit CTRL+A, CTRL+C and CTRL+V from the email to the document. From there, save the pasted email Word document onto your flash drive.
Outlook will also let you use the "Save As" option to move emails to your USB flash drive. Choose the file format that works best for your needs.
What other methods do you use to save your email inbox to a USB flash drive? Share your tips!