USB 3.0 and Thunderbolt: Friends or Foes? What Intel Says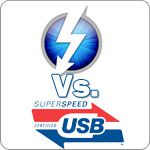 Just last month, Premium USB reported on Intel's announcement of plans for the new generation of data transfer connection technology dubbed, Thunderbolt.  Among the camp of USB skeptics, it's been reviled as everything from a USB 3.0 killer to a reincarnation of FireWire destined to remain proprietary.  In the most recent twist, Intel is coming clean with more details about its plans next year and how it wants developers to move forward—the chip giant has decided to support USB 3.0 alongside Thunderbolt technology.  This series of chips will be known as Ivy Bridge processors.
USB 3.0 clocks in with ten times the speed in data transfer rates compared to the current high speed interface.  Thunderbolt promises to be 20 times faster than USB 3.0.  Having been close to ten years since a new version of USB has popped up in Intel chipsets, the announcement is significant.
Just months ago, Intel was pretty silent about USB 3.0 and had repeatedly pushed back the date of its support, making the tech industry question its loyalty to the interface that it gave birth to.  We wondered whether the chip maker was planning for Thunderbolt to hog all of the limelight.  Now, the input/output technologies seem to be sharing it.  So, why the change of heart?
A VP of Intel's Architecture Group, Kirk Skaugen, went on record to say that 3.0 and Thunderbolt were "complementary" as opposed to being rivals.  Thunderbolt does in fact support USB devices like flash drives.  It is also compatible with FireWire, DisplayPort as well as Ethernet with the help of an adapter.
"We encourage all of you working on peripherals around the PC to engage on both USB 3.0 and Thunderbolt," Skaugen said.
Digitimes suggests there's more to it than creating interface buddies for the ease of the consumer:
"Sources believe Intel's strategy of adopting both technologies into its next generation products is to minimize the risks of placing all the eggs into one basket."
While Apple is the current champion for Thunderbolt, along with Sony considering it for laptops, Thunderbolt has a long way to catch up with USB 3.0.  The user-friendliness and familiarity of USB technology has allowed us to see a rising trend among 3.0 flash drives, laptops and hard drives by a diverse collection of manufacturers.
The question is, can USB 3.0 and Thunderbolt be "complementary" forever?  Is one destined to edge out the other?  Will we be demanding SuperSpeed gadgets like custom USB 3.0 flash drives or will we turn to Thunderbolt drives, desktops and peripherals?  The near future seems to favor USB 3.0, but 2012 should provide an interesting roadmap for where consumer tastes will lead.