Why Flash Pac USB Packaging Is Effective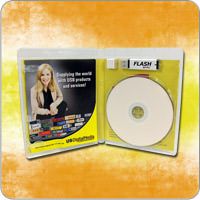 A hybrid of storage concepts wrapped up into one innovative package, the Flash Pac USB case is unlike any other you'll find.  As a matter of fact, it was born right here at Premium USB.  While we may be just a little biased in our love for this flash drive packaging, any objective eye cannot deny its function on more than one level.  Consequently, we've created our own ode to the Flash Pac.  So just why do we like it?  Let us count the ways!
–  It's an original.  Created with Premium USB customers specifically in mind, it draws inspiration from optical media packaging like DVD cases.  The Flash Pac makes a smooth transition from discs in toting around everyone's new favorite kind of digital storage.
–  We love its ability to protect, which sets it apart from other packaging.  While a pouch or paper box can still leave your drive vulnerable to impact, custom Flash Pac USB packages can withstand more due to their sturdy hard plastic construction.  A USB dock anchors your flash drive and cap in place so that it cannot slip out and get scratched or lost.
–  We're big fans of how the Flash Pac offers more versatility than other USB cases.  USB boxes and tins limit what you can provide, but the Flash Pac gives you the option to include a CD, DVD or Blu-ray.  By adding a disc, you provide clients with more promotional interaction and incentive to get acquainted with your brand.
–  We're fond of the idea that that Flash Pac USB case gives you more room to say what you want.  In addition to the content of your flash drive, USB packaging has the potential to tell (and sell) a story.  With a vast print area on the entrapment cover and inserts, you have enough room to show off your artwork as well as provide ample text to inform the user.  Gone are the days when you had to try and squeeze a single logo on the inch-long body of the flash drive.
The Flash Pac comes in both a standard style holding just the USB and a combo case that can hold a disc.  It can also accommodate standard and Blu-ray size inserts or entrapments.
Tell us what draws you to a Flash Pac over a run-of-the-mill package.  Comment below!