How To Sync USB Flash Drive and Computer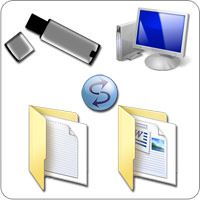 We've all done it before—making document changes that are saved to our flash drive while working on a remote computer only later to have to copy that updated file to our own PC or laptop.  However, things get a little sticky once we make multiple changes back and forth, attempting to keep the most recent file on the hard drive as well as the flash drive.  More often than not, mistakes are bound to happen where you lose or cannot keep track of the correct file you need.
There is a solution—you can sync your computer and USB drive.  Synchronizing computer files and folders allows you to share, manage and store files from more than one location, with the content being identical in both places.  Everything you do with the data becomes automatic between the two locations.
As a result, if you sync files between your USB flash drive and computer, you can spare yourself a lot of time as well as ease up on a vigilant, time-consuming management routine between these digital storage options.  Flash drive synchronizing is also useful for backup.  In the event that one location gets corrupted or lost you have your other source of data to turn to.  This function can be accomplished with a free software program like SyncToy, which is built by Microsoft and compatible with Windows XP, Windows Vista and Windows 7.
–  Once installed, the program should pop up under your Start menu.  SyncToy provides a fairly user-friendly interface to navigate, and should pose no difficulty to anyone familiar with Windows.
–  You'll be prompted to create a Left (PC hard drive) folder and a Right (USB flash drive) folder to serve as your two storage locations.
–  Next, the program gives you three synchronization options: Synchronize, Echo or Contribute.
–  The Synchronize selection simply ensures that both folders have identical files.
–  The Echo function helps spot irregularities between the two like new files or renamed ones and updating your flash drive based on what's been changed on the computer.
–  The Contribute option works similar to Echo, except that it does not delete files.
–  Once you've made your choice, it will ask you to name the pair of folders representing the drives.  From there you can choose to preview or run the file changes on your PC or flash drive.
How do you keep the content of your USB drive and computer matching and up to date?