Best Promotional USB Flash Drive Trends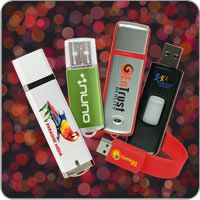 Our industry is constantly changing so that you can use USB flash drive more effectively for your needs.  A big part of that is an evolution in style.  They've transformed from boring, rectangular USB sticks into novel shapes that have now been modified today to serve as storage devices that not only look good, but serve a purpose on a number of levels.  Here's a look at some of our favorite promotional USB drives—and how they speak to customers on style and function.
–  Eco-friendly USB drives. Buzz words like "green" and "eco" are extremely appealing to savvy customers and clients.  These flash drives imply that you make a conscientious effort to think beyond your organization for the greater good, which only helps to enhance your image and trustworthiness.  What's more is that in a time where consumer and electronic waste is at a peak, knowing that there are products out there like bamboo USB drives and recyclable paper flash drive to ease environmental impact only helps boost a client's confidence.
–  USB Web Keys. These key shaped USBs are right at home alongside your car, house and work keys.  More importantly, they unlock a new way to promote your business or organization.  They are designed with your custom preloaded data to drive customers to specific web landing pages for special product offers.  By tracking conversion and other traffic results, USB web keys are an innovative flash drive trend that puts a new spin on marketing and ROI.
–  Wearable USB flash drives.  With the security breaches from lost flash drives becoming a primary industry concern, the less you have to worry about keeping track of your drive, the better.  That's why wristband USB drives are such a great idea.  Their added novelty factor also makes them an appealing giveaway for tradeshows and other events.
– Credit card USB flash drives.  Like a business card, only better.  For the user, they fit seamlessly into a wallet or purse.  As a result, this kind of promotional tool has the potential to stay with a customer longer than other items like shirts or magnets.  Since it fits in a wallet, it will always be easy to turn to.  For your business, credit card USB drives offer a comprehensive marketing strategy.  By resembling a traditional business card, you get a spacious print area to add information and colorful design.  Once plugged in, they can offer preloaded USB content or storage.
What's your favorite USB flash drive trend?  Don't forget to sound off below!