Promotional USB Flash Drive Buyers Guide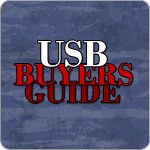 With the promotional season in full swing, you may be rushing to quickly find a medium to help promote your new products or services. While mugs, caps, or pens might fulfill the need of obtaining a promo gift, they aren't that exciting and give off a rather lackluster appearance; one that does not look good for your promotion or your company.
USB drives on the other hand do promote a much healthier image and one that can change the minds of even the strictest critics. But like all promo gifts, there are many things to consider when designing your gift like what color, material, size/dimensions, as well as all the other variables that go into a proper promotion. It can be rather overwhelming, but let us take a moment to present our readers with our Promotional USB Flash Drive Buyers Guide that will hopefully alleviate some of your worries.
1. Set a Budget
The first thing to consider is your budget. Create a budget that you know will get you your desired results with perhaps a little reserve set aside in case some options become available during the creative process that you may want. Going over budget or outside your means can put you at risk, but going under budget might represent your promotion or company negatively.
2. Turn Time
Next to think about is how fast do you need the custom USB drives? If you are a month out, then you have some time to plan ahead more time to choose your options wisely. If your timeframe is long, take your time and look at all the options available to help you really choose what is best for your promotion.
If you are on a truncated time table and need custom drives in a really short period of time, then you will want to look at our Express Services USB Flash Drives. All of these USB drives can be turned in under a week and some can even be turned in as little as 24 hours! All of this is possible because we stock our USB drive, but due to the short time table, supplies are limited to what we currently have in stock.
3. Data Capacity
Exactly how big of a data capacity do you need? If you plan on preloading several gigabytes of data, then you will need a USB drive that can compensate. Keep in mind that due to the nature of USB formatting, you will lose between 5-15% of a drives capacity. Our advice is that if you have 2GB worth of data, to bump up to a 4GB USB drive or perhaps skim down your promotional material to fit the drive. Unfortunately exactly 2GB of data will not fit on a 2GB USB drive.
Also as a side note, assess your needs and the goals of your promotion. If your goal is to just hand clients a USB drive for them to check out, then going with a lower capacity USB drive will probably be better for you. However, if your goal is to present your clients with promotional material as well as a USB drive you want them to continually use, then going with a higher capacity drive is best.
4. OEM vs. Original Flash
Original Flash refers to NAND flash memory made by the big named manufactures such as Samsung, Intel and Hynix and is considered the highest performance NAND flash you can buy. Generally this type of flash is used in higher end promotional products for when a lasting impression is key. OEM flash is a step down from Original flash, which makes is more affordable, and is generally used in medium to lower end promotional products.
Our advice would be to evaluate your expectations as well as the type of client's expectations to see on which type of NAND flash you will need. Many of our custom USB drives can be ordered with either types, but best to call an account representative to confirm which type of memory comes with each drive.
5. Style
What added functionality do you want your Promotional USB drive to have? There are many different styles to choose from including Swivels and Sliders, Natural, Cards, Pens, etc. Each style has its own unique advantage and can really shape the way you present your promotion or company. For example, custom USB cards have the largest print surface available and present a fantastic way to showcase customized USB artwork.
6. Material
The material your USB is made out of may not seem that big, but it can actually affect your impact quite a bit. For example, if your company is about going green and showcasing earth friendly products, then perhaps choosing a PVC plastic USB drive may not set the best example. Our Natural style USB drives would be a much better choice in the particular case. Choose your material well as it is the part of the drive that clients will be actually touching.
7. Printing Options
USB printing options are bountiful, but deciphering which option is best can be rather tricky. Many custom flash drives can be printed in multiple different styles including Silkscreen, Digital, Laser Engraving, and Heat Stamping depending on the USB drive. This of course includes printing customized logos or slogans on which ever color drive you wish. Keep in mind that each type of printing method has different results and different requirements, so be prepared to work with our graphical artists a little to better fit your artwork to the drive.
8. Packaging Options
No USB promotion would be complete without customized packaging. Many individuals and companies skip over USB packaging and it is one of the biggest mistakes they make. They often forget to include it into their budget or plan on presenting a bare USB drives to clients, but they end up cheating themselves when it comes to presentation and client impact.
We currently have many different styles of USB packaging ranging in a wide variety of materials and colors. Almost all USB packaging options can be personalized with custom logos, slogans, or company names an can create the impact on your clients that you desire.
Our advice would be to include some form of customized USB packaging. Products you buy from retail stores have customized packaging and sometimes end up making your decision for you when you go to checkout. So why not follow what we as consumers have become accustomed to and present your clients with promotional USBs in customized packaging.
9. USB Data Services
A customized promotional USB drive is good; a custom packaged promotional USB drive is better, but a Preloaded customized promotional USB drive in custom packaging is the best! USB data services include FREE data preloading, USB Auto Launch, and USB Data Lock. All of these services make great additions to any promotion as a promotion stuffed USB drive has more value than an empty one. USB Auto Launch makes a fantastic way to automatically open an interactive menu and cuts down on the wasted time trying to find vital files and our USB Data lock service makes a great way to ensure that your promotional files never leave your USB drive.
10. USB Accessories
Last but not least, USB accessories add that little extra flair to your promotion that may go unnoticed at first glance, but is not under-appreciated. Accessories include USB lanyards, USB key chains, USB Keyloops and much more. All our USB accessories make a great addition to any promotion and are a recommended addition. Of course not all promotions will have accessories, but if you can slip it into your budget, then you will be better off for it.